White House intruder arrested after scaling security fence – reports
Published time: 11 Mar, 2017 16:45
Edited time: 12 Mar, 2017 14:25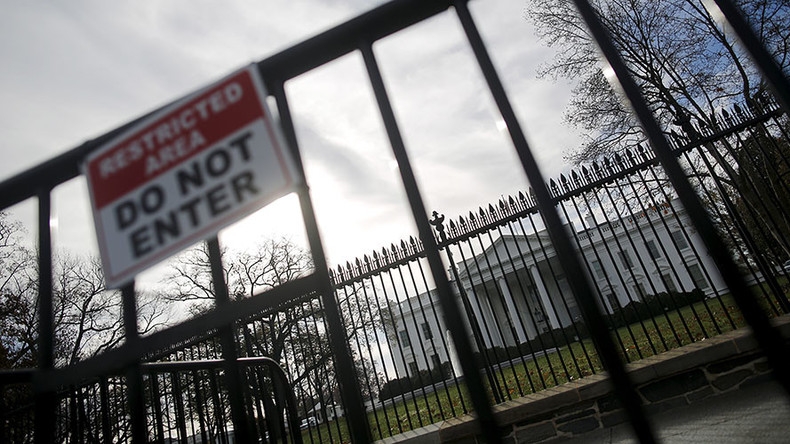 The US Secret Service says one person is under arrest after climbing a fence and entering the south grounds of the White House, AP reports. The breach reportedly took place shortly before midnight on Friday while President Donald Trump was in residence.
A backpack being carried by the intruder, who CNN reports was a man, was searched but found to contain no hazardous materials.
The security agency reportedly said that the unnamed individual was arrested without further incident.
A subsequent search of the south and north grounds found "nothing of concern to security operations," the Secret Service was quoted as saying by AP. Homeland Security Secretary John Kelly was briefed on the incident.
Addressing the incident, Trump commended the Secret Service and said that he had been informed about the intrusion on Friday night, Reuters reports. He said the intruder was a "troubled person."
READ MORE: Déjà vu at the White House: Intruders breach grounds twice in 9 hours
Reuters reports that the White House could not be reached immediately to comment or confirm the report.
The White House has suffered from several security lapses in recent years, including an incident in 2014, when a 42-year-old Texan named Omar Gonzalez managed to enter the building with a folding knife in his pocket.
Then-president Barack Obama and his family were not at the White House at the time and Gonzalez was apprehended just inside the doors. He later claimed in court that he "never meant to harm anyone."
In May of last year, a man named Jesse Olivieri from Pennsylvania brandished a gun at a White House security check point and was shot and injured by the Secret Service before being arrested. He was later given an eight-month sentence.
In October 2013, Miriam Carey, 34, attempted to drive through the barriers outside the White House, striking a Secret Service officer with her vehicle. She was shot and killed by law enforcement after a car chase. Her 13-month-old daughter was found unharmed in the car.