ICE releases detained 'DREAMer'
Published time: 11 Mar, 2017 02:21
Edited time: 11 Mar, 2017 12:49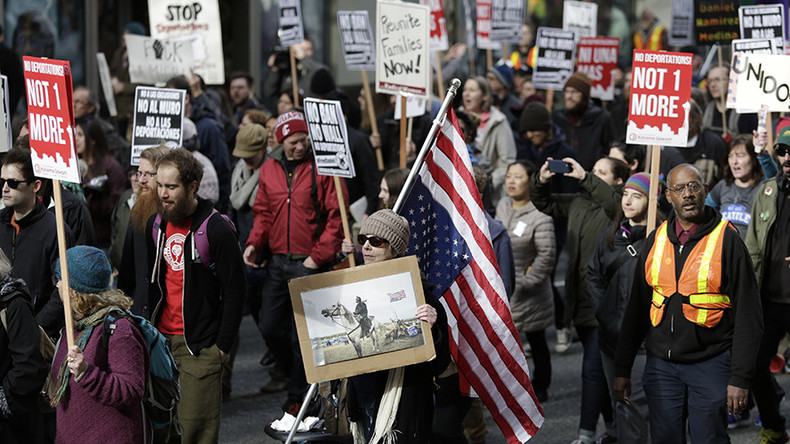 A Deferred Action for Childhood Arrivals (DACA) recipient was released after 10 days in a detention center. She was detained by Immigration and Customs Enforcement (ICE) while going home from a news conference where she had spoken out against raids.
Daniela Vargas, 22, a so-called "DREAMer" who came to the US as a child, was released after being detained by ICE despite having a pending DACA application. Karen Tumlin, legal director at the National Immigration Law Center, announced the update Friday after the highly-publicized arrest in Jackson, Mississippi, on March 1.
Vargas had received DACA status in the past, but she claimed she was forced to let her authorization lapse in November after not being able to afford the $495 fee. However, she had reapplied in February but was detained after talking about her brother and father's arrests by ICE last month.
She was brought to the US from Argentina by her parents when she was seven years old and graduated from a Mississippi high school and community college. She had plans to continue to a four-year institution and pursue a career in education.
Vargas was held at a detention center in Louisiana after her arrest. While the end of her detention is seen as cause for celebration by some, it does not mean she will be able to stay in the US unfettered.
Her attorney, Nathan Elmore, told CNN that he was concerned a deportation order against Vargas had not been rescinded. "We have not seen the order that released her, so there are technical aspects that cause doubts prior to seeing that," Elmore said.
In another case, DACA recipient Daniel Ramirez was detained two weeks ago by ICE officers in Washington, despite having an active DACA authorization. US Department of Justice officials have defended Ramirez's detainment, arguing that the 23-year-old was a gang member based on a forearm tattoo. However, Ramirez's attorneys have defended his tattoo and explained that it is a reference to his place of birth and not a crime syndicate.