2 US senators ask DOJ for evidence of Obama wiretap on Trump
Published time: 9 Mar, 2017 02:48
Edited time: 9 Mar, 2017 09:35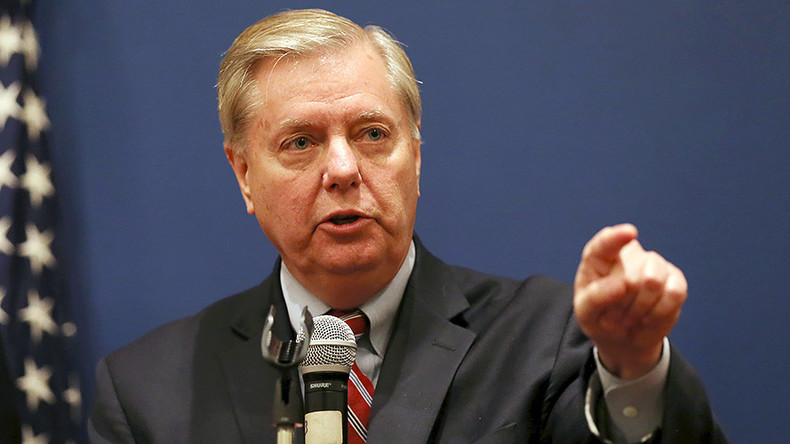 President Donald Trump's accusation that former President Barack Obama ordered a wiretap on Trump Tower during the 2016 presidential campaign has led two senior US senators to request the government provide them with evidence.
Senators Lindsey Graham (R-South Carolina) and Sheldon Whitehouse (D-Rhode Island) sent a letter to the Department of Justice (DOJ) and the Federal Bureau of Investigation (FBI) on Wednesday, requesting "copies of any warrant applications and court orders...related to wiretaps of President Trump, the Trump Campaign, or Trump Tower."
The letter, addressed to FBI Director James Comey and Deputy Attorney General Dana Boente, says: "Congress must get to the bottom" of the allegations, and that they "would take any abuse of wiretapping authorities for political purposes very seriously."
"We would be equally alarmed to learn that a court found enough evidence of criminal activity or contact with a foreign power to legally authorize a wiretap of President Trump, the Trump Campaign, or Trump Tower," they wrote.
The request comes after Trump posted a series of tweets, accusing Obama of wiretapping Trump Tower during the 2016 presidential campaign, without offering evidence.
The following day, White House press secretary Sean Spicer tweeted that the president requested "the congressional intelligence committees...exercise their oversight authority to determine whether executive branch investigative powers were abused in 2016."
Graham and Whitehouse, the top two ranking members of the Senate Judiciary Subcommittee on Crime and Terrorism, argue that oversight for the potential wiretaps falls under their subcommittee.
"We will be glad to review any such applications and orders once they are disclosed, and proceed as appropriate with the oversight the President has requested," the senators wrote.
In an interview with CNN, Graham stated that he would be willing to subpoena the intelligence agencies for the information.
Graham says there are only two ways that the wiretap could have been issued, either by obtaining a warrant from a federal judge, which would require probable cause that the Trump campaign was "up to some nefarious activity with the Russians or somebody else."
"If there is no warrant, that excludes that possibility," Graham said.
Otherwise, Graham says the FISA court, named after the Foreign Intelligence Surveillance Act, could issue a warrant, but he doubts that was the case since the FISA courts would only cover foreign agents, not American citizens.
"Either they're lying to me, or there is no information," Graham said. "I expect them to come forward as to whether or not a warrant was obtained or sought."
James Clapper, the former Director of National Intelligence under Obama, told NBC's "Meet the Press" on Sunday that "there was no such wiretap activity mounted against the president-elect at the time, as a candidate, or against his campaign."
Clapper also denied that the FISA court ordered the surveillance, saying: "I would know that," and, "I can deny it."