Clinton VP's son arrested for rioting at Trump rally protest
Published time: 8 Mar, 2017 16:47
Edited time: 9 Mar, 2017 08:59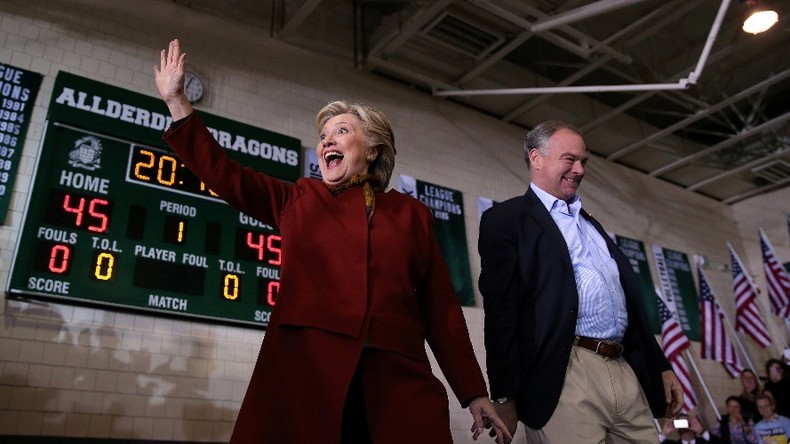 The youngest son of Senator Tim Kaine, Hillary Clinton's 2016 running mate, was one of six people arrested for rioting during a counter-protest at a 'March for Trump' rally in St. Paul, Minnesota.
Woody Kaine, 24, was arrested on suspicion of second-degree rioting at the counter-protest rally on Saturday, according to St. Paul, Minnesota police, who said they clashed with Trump supporters.
Kaine, along with four others, was released from jail on Tuesday, pending further investigation. No charges have been filed against him or the others.
Virginia Senator Tim Kaine, a St. Paul native, released a statement on Tuesday night.
"We love that our three children have their own views and concerns about current political issues," Kaine said in the statement, according to the Minnesota Pioneer Press. "They fully understand the responsibility to express those concerns peacefully."
Supporters of US President Donald Trump held "March 4 Trump" rallies across the US on Saturday.
Several hundred Trump supporters rallied at Minnesota's State Capitol. Police estimate the rally attracted 400 Trump supporters, who were met by 50 anti-Trump protesters.
Speeches had been going on for about half an hour when a group tried to disrupt the event. At one point, someone set off a smoke bomb. Police said it struck a woman in the head, but she was not injured.
Security guards intervened, skirmishes broke out, and someone sprayed a chemical irritant into the crowd. The anti-Trump demonstrators left and the rally resumed.
St. Paul police spokesman Steve Linders told the Pioneer Press that Woody Kaine was seen with four people lighting fireworks inside the Capitol building. Police are investigating the claim.
Kaine was arrested with the four others less than a block from the Capitol.
Linders said police detained Kaine after "he turned around and squared up to fight with the officer."
"The officer was able to place Mr. Kaine under arrest and take him to Ramsey County jail for booking."
Police arrested a sixth person at the Capitol.