Amazon's Blue Origin rockets rekindle space race (VIDEO)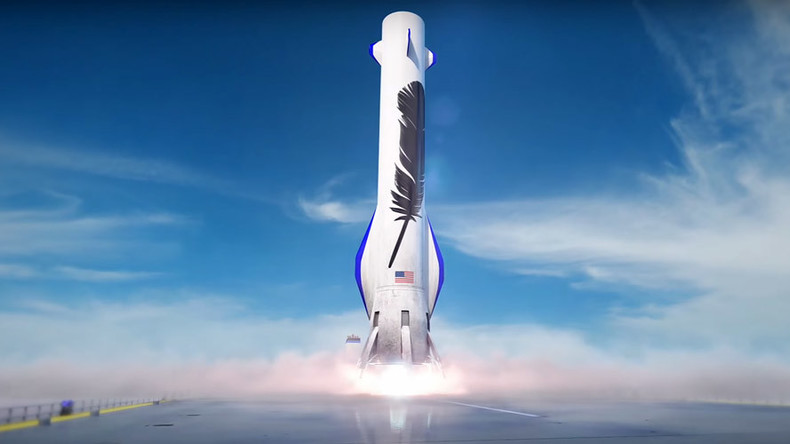 Amazon CEO Jeff Bezos made several announcements for his private space travel company, Blue Origin, showing off the first pictures of new rockets, picking up the company's first customer and releasing a new video.
It's been a busy 48 hours for Bezos, who first surprised his Twitter followers with pictures of the first full-scale BE-4 rocket engines on Monday.
Blue Origin says the rockets will be the fastest way for America to end its dependence on the Russian-made RD-180 engine, since they do not require any taxpayer funds. Bezos has reportedly spent over $500 million of his own money on the aerospace company since 2000.
Each BE-4 rocket engine uses oxygen-rich staged combustion of liquid oxygen and liquefied natural gas to provide 550,000 pounds of thrust.
On Tuesday, Bezos secured their first paying customer, the French satellite operator Eutelsat Communications during the Satellite 2017 Convention in Washington, DC.
According to a statement, Eutelsat's agreement with Blue Origin will cover the launch of at least one geostationary satellite between 2021 and 2022.
Eutelsat CEO Rodolphe Belmer said Tuesday that the deal with Blue Origin follows their "longstanding strategy of innovation that drives down the cost of access to space and drives up performance."
"This can only be good news for the profitability and sustainability of our industry," Belmer added.
With one small step, Blue Origin has entered into the private aerospace market that Elon Musk's SpaceX has been dominating for years.
Blue Origin released a video of its new super heavy-lift rocket, the New Glenn, in action on Tuesday. The New Glenn rocket is named after astronaut John Glenn, the first American to orbit the Earth.
The video shows how they plan to land the rocket vertically, just like SpaceX's Falcon 9.
Blue Origin says the rockets will be designed to be fully reusable, which allows the firm to lower the cost of each launch.
While the New Glenn is still under construction, Bezos said the massive rockets will be between 270 to 313 feet tall, and will require seven BE-4 engines for the first stage of lift-off, and one more for the second stage.
During the Satellite 2017 conference, Bezos told a reporter at Space News that the New Glenn "has quite a bit of capability," and is able to lift up to 13 metric tons into space and 45 metric tons into low Earth orbit.