Anti-Syrian-war protest disrupts White Helmets pop-up music tribute (VIDEO)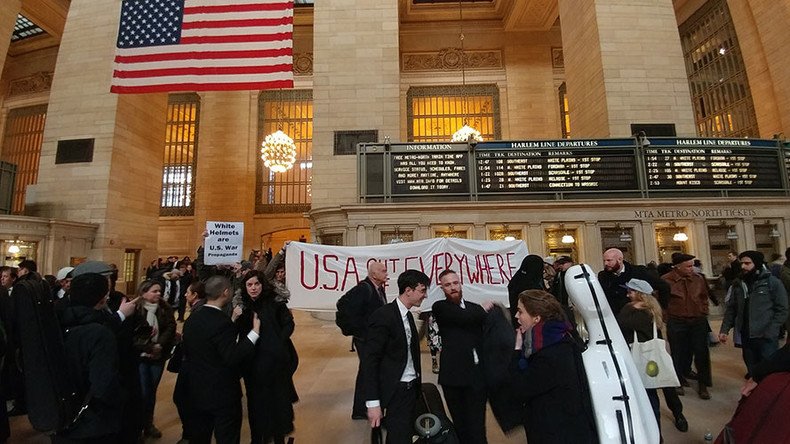 A pop-up music concert in New York's Grand Central station, promoting the work of the Oscar-winning Syrian "humanitarian" group White Helmets, was disrupted by anti-war protesters.
While a full orchestra and choir, some wearing white helmets, pounded out Beethoven's Ode to Joy against the backdrop of Grand Central Station in Manhattan on Friday, about a dozen anti-war activists protested the group's presence.
Standing among the orchestra, anti-war activists held aloft signs that read "White Helmets are US Propaganda,""No US bases in Syria," and "This is US war agenda."
Several activists carried a massive white banner with red lettering stating "US out of Everywhere," and as the orchestra stopped playing, video shows activists chanting "US out of Syria."
"We were there because the White Helmets are a PR effort for the US government to drum up support for intervention in Syria. We are opposed to US intervention in Syria and everywhere else, we thought it was important to protest this event," an activist with Hands Off Syria told RT.
Activists refused to be identified because they've already faced harassment and lost jobs over their views on US involvement in Syria.
"It was bad, because they were taking a very beautiful and well-known music and basically trying to drum up war propaganda and sentiment to justify the war when in fact that the US has bases in Syria, the US has already invaded Syria, US is already responsible for the protracted war against the Syrian people. Half of the country are refugees," Another activist told RT. "And they want to give you Beethoven's Ninth [Symphony]. That's sick."
Activists who handed out leaflets about the White Helmets said three or four of the players in the concert felt used realizing what they were associating with.
A Netflix documentary promoting the work of the White Helmets just won an Academy Award, but the recognition comes amid growing controversy about the group and its alleged neutrality.
The group first gained notice when videos started being circulated showing men in white helmets assisting people in Syria, rescuing children and cleaning up bombed out sites in territories held by the rebels.
The appearance of the group's activities coincided with the Russian government's assistance to the Syrian Government in efforts to rid itself of Al-Qaeda. Russian intervention infuriated the Obama administration, which has sought regime change in Syria.
Since then, allegations have arisen that the White Helmets are little more than a propaganda effort funded by the US government.
"All you have to do is look at their funding source – which is the US government – specifically the USAID, and the UK foreign office have given tens of millions of dollars to this group which is run by the Syria Civil Defense, which is a PR firm," independent journalist Rania Khalek told RT. "The purpose of all this is to push for regime change in the public sphere. To paint a narrative that pushes for escalation and military intervention in Syria. "
In April 2016, the State Department admitted the US had mysteriously revoked the visa of White Helmets leader Raed Saleh over ties with terrorist groups, even as the group received $23 million in US taxpayer funds. Saleh was able to attend the Academy Awards in February after a federal court overruled the Trump administration's travel restrictions on Syrians and residents of six other majority-Muslim countries.
You can share this story on social media: