Most US-based 'extremists' radicalized after living in US – DHS report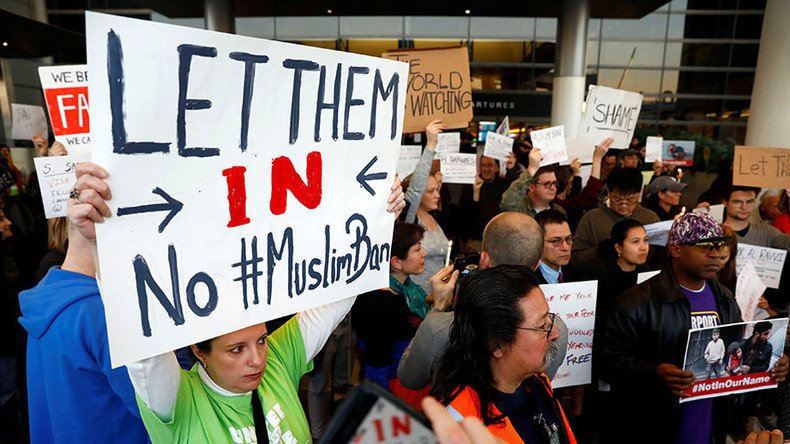 A leaked Department of Homeland report shows that more than half of 88 foreign-born 'violent extremists' became radicalized after living in the US for more than 10 years.
"We assess that most foreign-born, US-based violent extremists likely radicalized several years after their entry to the United States, limiting the ability of screening or vetting officials to prevent their entry because of national security concerns," stated the DHS Office of Intelligence and Analysis document, acquired by MSNBC on Thursday.
The DHS confirmed the authenticity of the document and said it was drafted in August 2016 and would have reached the White House.
The document shows that of 88 foreign born, US-based violent extremists were either indicted or killed while conducting/attempting to conduct an attack, and that more than half were radicalized after living in the US for more than 10 years.
A separate study referred to in the document found that recent foreign-born US violent extremists began adopting radical tendencies 13 years after entering the US. The study also found that the parents of the suspects did not espouse extremist ideology "at the time they entered the US or at any time since."
Of 116 native-born US 'violent extremists,' who were also arrested or killed for trying to conduct or attempting to conduct an attack, "had similar experiences and grievances to the 88 foreign-born attackers."
Those experiences and grievances included "perceived injustices against Muslims in the Homeland and abroad because of US policies, feelings of anger and isolation, and witnessing violence as a child."
Citing as an example of when a person becomes isolated from their community, "Gulad Omar, who was sentenced in 2016 for attempting to travel overseas and join ISIS, claimed in a December 2016 interview - after his older brother traveled to Somalia in 2007 to join al-Shabaab - that he was shunned and isolated from the Somali-American community in Minneapolis, which led to depression, drug use, and taunting by peers."
American born brothers Nader Saadeh and Alaa Saadeh – who both pleaded guilty after their arrest in 2015 for providing material support to ISIS – believed the United States oppressed its own people and failed to protect Muslims, according to DOJ criminal complaints.
Similarly, Ibrahim Mohammad, born in the UAE and arrested in 2015 for providing material support to AQAP, believed the United States was actively at war with Islam, another DOJ criminal complaint stated, according to the report.
The leak comes after President Donald Trump issued a controversial executive order on January 27 banning the US' acceptance of Syrian refugees indefinitely, and restricting travel to the US from seven countries with majority-Muslim populations - Libya, Somalia, Sudan, Yemen, Syria, Iraq, and Iran for 90 days.
The ban caused chaos at airports in the US and the seven countries, and massive protests broke out at New York JFK airport, and later at Washington Dulles Airport when word of the ban started spreading.
The executive order has since been blocked by a federal court after they found it violated the US Constitution and the Trump administration said it will be replaced by another version shortly.
President Donald Trump cited the terror threat as the justification for his executive order and implied that immigration vetting wasn't sufficiently thorough.
Contrary to the Trump administration argument that terrorists come from outside the US, the documents showed that attacks, that were either attempted or conducted, involved "traveling or attempting to travel from the United States to join an FTO organization (foreign terrorist organization), and providing funds, goods, or logistical assistance to support an FTO. All individuals examined in our study were indicted or killed between March 2011 – the start of the Syrian conflict – and December 2016."
The document even offers suggestions to help people from becoming radicalized including integration and mentoring services for refugees and asylees and recognizing the role of immigration community organizations, and nonprofits.
The analysis specifically mentions a Georgia-based program that provides "cultural, psychological, and socio-economic needs of refugees and immigrants in Atlanta."
You can share this story on social media: