Nebraska prison 'disturbance' leaves 2 inmates dead
Published time: 3 Mar, 2017 16:27
Edited time: 4 Mar, 2017 13:22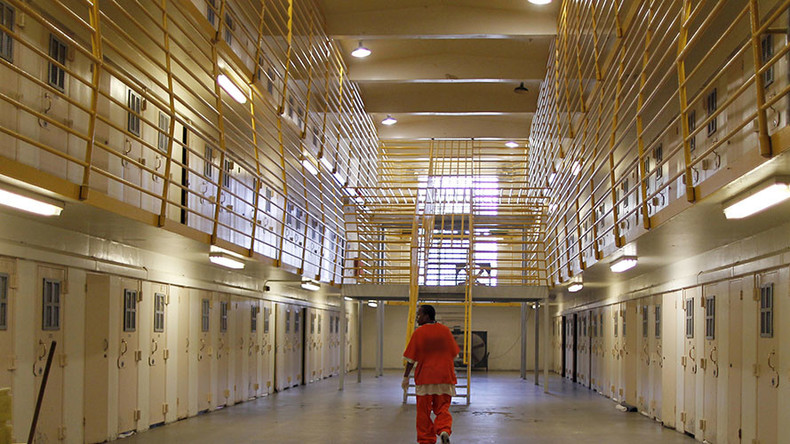 Two inmates were killed and several others injured during a "disturbance" at the Tecumseh State Correctional Institution in southeastern Nebraska. The prison was on lockdown for several hours after inmates started a fire in the yard.
The incident involved about 40 inmates in a maximum-security unit that holds 128 prisoners, officials said. The lockdown was imposed around 1:45pm local time on Thursday, and by 4:30pm, Housing Unit 2AB was declared "habitable and secure," AP reported.
No prison employees were injured, Nebraska Department of Correctional Services Director Scott Frakes told reporters at a press conference on Thursday evening. An unspecified number of inmates suffered injuries that were not considered life-threatening.
The two dead inmates were found inside the housing unit. At a press conference on Thursday evening, Frakes described the deaths of the two inmates as murder, but gave no further details and did not disclose their names, according to the Omaha World-Herald.
"Any loss of life is tragic," Frakes said, adding that the prison staff "handled the situation extremely well which limited the incident to a small number of participants."
The cause of the disturbance is still under investigation, while the murders will be investigated by the Nebraska State Patrol, the World-Herald reported citing Frakes, Governor Pete Ricketts, and Warden Brad Hansen.
"The loss of life was tragic, but this is a dangerous place," Ricketts told reporters. "As long as the inmates make bad decisions, we'll have to respond to incidents like this."
The governor also posted a statement on Facebook, praising the response of the prison officials and saying the incident was "swiftly resolved and public safety was never at risk."
"Director Frakes will thoroughly investigate the incident, and inmates involved in the incident and the loss of life will be prosecuted to the full extent of the law," Ricketts added.
During the incident, the authorities issued a media advisory, saying: "This is not a riot."
An actual riot did occur at Tecumseh in May 2015, when up to 200 inmates took over, ransacked and torched parts of two housing units, causing $2 million in damages. Two inmates, both sex offenders, were later found bludgeoned to death. No one was arrested for the murders, the World-Herald reported.
In early February, inmates at the James T. Vaughn Correctional Center (JTVCC) in Smyrna, Delaware took several corrections officers hostage and killed one before order was restored. Speaking to the media by telephone, one of the inmates described it as a revolt against "Donald Trump. Everything that he did. All the things that he's doing now."