Trump expresses 'total' confidence in AG Sessions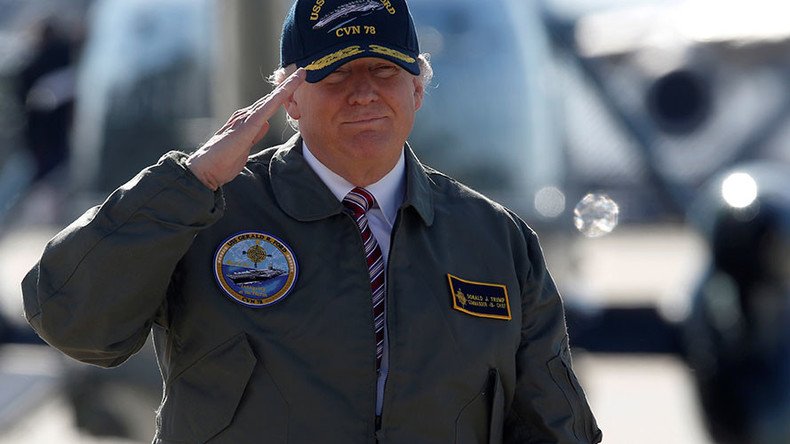 President Donald Trump reportedly has "total" confidence in US Attorney General Jeff Sessions, who faces bipartisan pressure to resign over talks with a Russian ambassador. He has since recused himself from probes of alleged Russian meddling in the 2016 election.
During a visit to Newport News Shipbuilding in Virginia on Thursday, Trump told reporters he "wasn't aware" that Sessions had contact with Russian ambassador to the US, Sergey Kislyak, during last year's campaign. Sessions was a US senator and member of the Armed Services Committee at the time.
Trump was in Virginia to give a speech aboard the USS Gerald Ford. Asked whether Sessions should have testified truthfully before Congress, Trump said, "I think he probably did."
Sessions spoke twice with Kislyak during the campaign. Those conversations appear to contradict Sessions' sworn testimony during his Senate confirmation hearings, although the questions revolved around campaign affiliations.
Democratic members of the House Judiciary Committee asked the FBI on Thursday to launch a criminal investigation into Sessions' statement before the Senate about his communication with Russian officials.
"We would ask the FBI and the United States Attorney's Office for Washington, D.C., to take up an immediate criminal investigation into these statements, which could potentially implicate a number of criminal laws including Lying to Congress and Perjury," read the letter to FBI Director James Comey and U.S. Attorney Channing Phillips, according to Reuters.
Leading Democrats, Senate Minority Leader Chuck Schumer of New York and House Minority Leader Nancy Pelosi of California have also asked Sessions to resign over the contact.
Pelosi accused Sessions of "lying under oath," adding, "Perjury is a crime," during a morning press conference.
Democratic leaders and some Republicans said Sessions should step aside from a federal investigation into alleged Russian interference in the 2016 presidential election.
Republican Senator Lindsey Graham of South Carolina said, "Somebody other than Jeff needs to do it."
During an appearance on MSNBC's "Morning Joe," Democratic Senator Al Franken of Minnesota said Sessions' statements about his contacts with Moscow have been "contradictory."
At Session's confirmation hearing in January, Franken asked the then-Alabama senator what he would do if there was evidence that anyone from the Trump campaign had been in touch with the Russian government during the 2016 White House race.
Sessions replied he was "unaware of those activities."
On Thursday, however, Sessions confirmed that he met with Kislyak, but denied the meetings were in relation to any political campaign. The White House said Sessions met with the diplomat in his capacity as a US senator, rather than as a Trump campaign adviser.
A protest quickly crystallized outside the Department of Justice on Thursday, where 100 people rallied and called for Sessions to resign. MoveOn.org, an organization supported by George Soros, organized the rally.
A petition was launched ahead of Thursday's protest.
The 'grassroots' organization previously co-ordinated nationwide anti-Trump protests in the wake of the Republican's presidential victory in November.
You can share this story on social media: