Trump's new Interior Secretary rides to work in cowboy hat
Published time: 2 Mar, 2017 21:14
Edited time: 3 Mar, 2017 11:47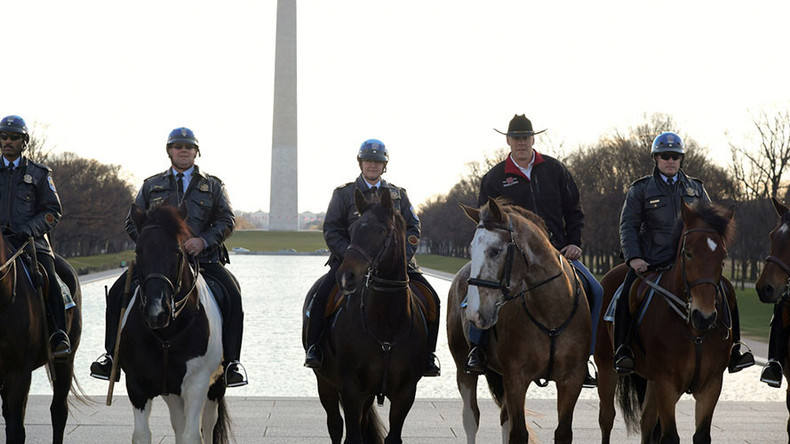 In an unusual sight, President Trump's new interior secretary arrived for his first day at work wearing a cowboy hat, boots, and jeans perched atop a horse.
Mounted police escorted the new interior secretary Ryan Zinke a few blocks through Washington, DC on the horse, Tonto, an Irish sports horse, on Thursday, before arriving at the Department of the Interior.
Zinke accepted an invitation from the Park Police to "stand shoulder-to-shoulder with their officers on his first day at the Interior, the eve of the Department's anniversary," spokeswoman Heather Swift said, according to USA Today.
A fifth-generation Montanan, Zinke was confirmed as Interior Secretary by the US Senate on Wednesday and sworn in by the Vice President, Mike Pence on Wednesday night.
Zinke will oversee the country's 500 million acres of public land, including 59 national parks. The department has 70,000 employees at 2,400 locations.
Officers from various agencies under the Interior Department lined the steps to the administration building while a drummer from his home state's Northern Cheyenne tribe played and chanted.
"It was quite a neat reception," Greg Julian, a spokesman at the Bureau of Safety and Environmental Enforcement told The New York Times.
Zinke later tweeted, "Humbled by the warm welcome at Interior this morning."
An ardent hunter, fisherman and outdoorsman, Zinke is the first person from Montana to serve on a presidential cabinet.
He pledged in the Senate hearings to oppose any attempt at large-scale transfers of federal land—long a goal of some conservatives in the West.
"I am an unapologetic admirer of Teddy Roosevelt and believe he had it right when he placed under federal protection millions of acres of federal lands and set aside much of it as national forests," Zinke told senators in January. "Today, much of those lands provide American's the opportunity to hike, fish, camp, recreate and enjoy the great outdoors."
His credentials earned him the support of 15 Democrats and numerous conservation groups. But most other Democrats and environmentalists opposed him, citing his desire to increase fossil fuel development on federal land, and his support for the Keystone XL pipeline.
Zinke has been silent over the Dakota Access Pipeline.
During his brief political career, the former Navy Seal has been accused of attacking the Endangered Species Act.
"Ryan Zinke has a dismal three percent lifetime environmental voting record. He led efforts to strip federal protections for endangered wolves, lynx and sage grouse, voted to exempt massive agribusiness and water developers from Endangered Species Act limitations, and opposed efforts to crack down on the international black market ivory trade," Kierán Suckling, Executive Director of the Center for Biological Diversity (CBD) told NativeNewsOnline.
Suckling said Zinke has supported the baiting of grizzly bears, aerial gunning and denning wolves on national wildlife refuges in Alaska.