Pennsylvania road closes early for lovesick amphibians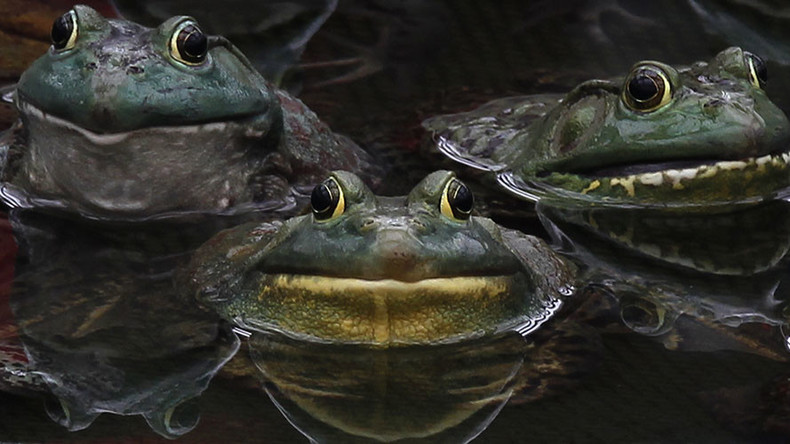 The National Park Service has closed a Pennsylvania road earlier than scheduled so mating frogs and salamanders don't get squashed as they seek out mates. When conditions are right there are often hundreds, if not thousands, of amphibians on the move all across the region.
Because of the unusually mild winter, Park Rangers announced the night road closure in the Middle Smithfield Township earlier this year as a myriad of wood frogs, spotted salamanders, spring peppers and other spring-breeding amphibians follow their urge to search for mates.
"This year, we had our first road closure in February, which we've never done before," Park Ranger Kathleen Sandt told WNEP.
Normally the mating season takes place between mid-March through mid-April. This year it has been bumped up to the beginning of March. The road in the Delaware Water Gap National Recreation Area is closed from 5:00 pm to 6:30 am the next morning.
"They're actually coming. If you can see, behind us is the forest, and that's where they spend their winter, and then they come out of those grounds just when the conditions are right," Sandt told WNEP.
For the past 15 years, the National Park Service has closed River Road to protect breeding frogs and salamanders, according to their website. Amphibians wake from hibernation in the spring ready to breed, with the female of the species swollen with spawn. The amphibians hop or crawl to moist breeding pools close by where male frogs fertilize spawn as it is laid.
The road closure also offers a chance for the public to observe the remarkable spawning ritual and listen to the frog croaks. Deep, purring croaks are emitted to intimidate other males and attract the attention of females.
Gates in the park are closed either end of River Road. Drivers violating the closure face fines from $50 up to $150, and criminal liability if they injure pedestrians.