To help refugees, stop arming terrorists – Rep. Tulsi Gabbard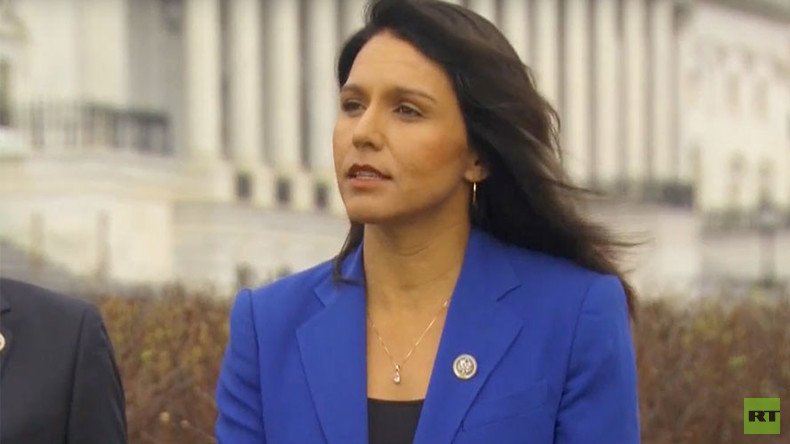 Representative Tulsi Gabbard called again for the US to stop aiding terrorists like Al-Qaeda and ISIS, while her guest at the presidential address to Congress, a Kurdish refugee activist, called for an end to the US policy of "regime change in Syria."
While many Democrats invited immigrants as their guests for President Donald Trump's speech to the joint session of Congress on Tuesday, Gabbard, a Democrat from Hawaii, hosted Tima Kurdi, whose 3-year-old nephew drowned on the shores of Turkey in September 2015. Photos of Alan Kurdi's body quickly became the symbol of Syrian refugees' plight – and led the US to step up efforts to overthrow the Syrian government, actually magnifying their suffering.
On Wednesday, Tima Kurdi joined Gabbard at a press conference on Capitol Hill and called on Trump "to end the regime change in Syria."
"The most important question is, how do we address the cause of these people fleeing their homes," said Gabbard, pointing to the bill she submitted in this session of Congress. Her "Stop Arming Terrorists Act," or HR 608, would ban the use of US taxpayers' funds to aid terrorist groups affiliated with Al-Qaeda or Islamic State (IS, formerly ISIS/ISIL).
"For years, our government has been providing both direct and indirect support to these armed militant groups, who are working directly with or under the command of terrorist groups like Al-Qaeda and ISIS, all in their effort and fight to overthrow the Syrian government," Gabbard told RT.
Gabbard traveled to Syria in January on a fact-finding mission, meeting with President Bashar Assad. She also visited Aleppo, liberated in December from Islamist rebels led by Jabhat Fatah Al-Sham, a re-branded Al-Qaeda affiliate formerly known as Jabhat Al-Nusra.
The Pentagon's $500 million effort to train and equip "moderate" Syrian rebels to fight against IS and Damascus met with disaster in 2015, as the majority of the fighters either surrendered or defected to Al-Nusra, with all of their US-funded weaponry. In the end, the program produced only "five or six" trainees, to the consternation of Congress.
With that fiasco in mind, Gabbard propose the first draft of her bill in December 2016. Her subsequent trip to Syria was met with outrage from the US foreign policy establishment and in the mainstream media, who denounced her as "Assad's mouthpiece."
Representative Tom Garrett (R-Virginia), a US Army veteran, spoke out in support of HR 608 and said that the goal of US policy in Syria should be peace.
"Tulsi understands that arming the so-called 'rebels' in Syria has only led to more bloodshed, more suffering, and created more refugees," Tima Kurdi said in a statement on Tuesday. "A military solution in Syria is not the answer. I hope that President Trump will stop arming terrorists and commit to a political solution in Syria—it is the only way to restore peace."
You can share this story on social media: