Trump promotes historically black colleges & women in STEM, rolls back water protections
Published time: 1 Mar, 2017 01:36
Edited time: 1 Mar, 2017 13:13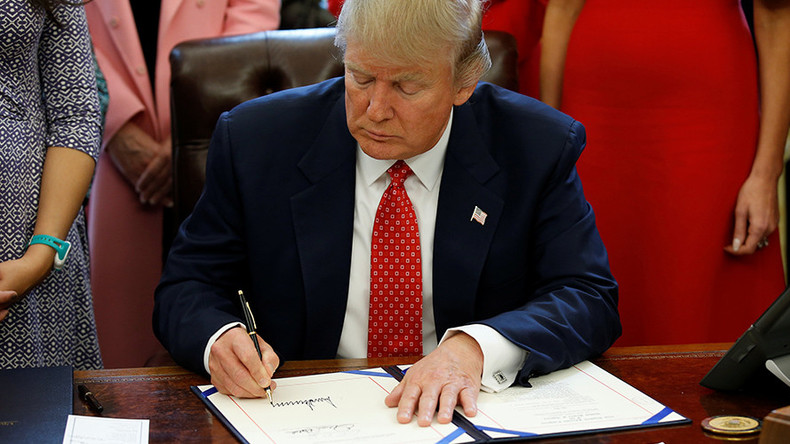 President Donald Trump has signed two new executive orders, boosting historically black colleges and rolling back environmental protections created under the previous administration. He also signed two bills that aim to increase the presence of women in STEM fields.
On the last day of Black History Month, Trump signed an executive order that will move the Historically Black Colleges and Universities (HBCUs) initiative from the Department of Education's purview back to the White House.
Although every president since Jimmy Carter in 1980 has reorganized the initiative through executive orders, Trump said his White House will make it "an absolute priority." Previous administrations have "lost track because they didn't have the full force of the White House behind it."
The initiative will now be led by a person "who reports to a senior advisor to the president." One of its goals will be to promote HBCUs as "strategic partners" in the president's "urban agenda of creating jobs and making inner cities safe again," a senior White House official told reporters in a background briefing.
The executive order comes after Trump, Vice President Mike Pence and Education Secretary Betsy DeVos met with representatives of more than 60 of the country's 107 HBCUs in the Oval Office on Monday, where Trump joked that he didn't think "we've ever had this many people in the Oval Office. This could be a new record, forever."
"You deserve far more credit than you get, and know that beginning today, this administration is committed to making sure that our historically black colleges and universities get the credit and the attention they deserve," Pence said. "Get ready for a great and energetic partnership in the days ahead."
However, DeVos faced a backlash after she linked HBCUs ‒ which were established to educate African-Americans shut out of traditional colleges due to segregation after the Civil War ‒ to her controversial school choice plan, saying that they are "real pioneers when it comes to school choice."
"They are living proof that when more options are provided to students, they are afforded greater access and great quality," she said in a statement. "Their success has shown that more options help students flourish."
Dialing back water regulations
As farmers, home builders and county commissioners looked on, Trump signed an executive order that instructed the Environmental Protection Agency (EPA) and the US Army Corps of Engineers to review and reconsider the 2015 Waters of the United States (WOTUS) environmental rule, which gave the federal government broad authority to limit pollution not only in major water bodies but in streams and wetlands that feed them. The president called WOTUS a "very destructive and horrible rule."
"A few years ago the EPA decided that 'navigable waters' could mean nearly every puddle or every ditch on a farmer's land, or everywhere else that they decide," Trump said. "It was a massive land grab."
The president would prefer that the rule only apply to "navigable waters" affecting "interstate commerce."
It could take well more than a year for the directive and its subsequent rulemaking to be carried out, the Washington Post reported.
The executive order pits the agricultural, construction and real estate industries ‒ who complained that the old rule would stifle economic growth and intrude on property owners' rights ‒ against outdoor recreation and environmental groups, who said the previous protections were essential to safeguard public drinking water and the ecosystems of about 60 percent of the country's waterways.
Women in STEM
Trump also signed two bills into law that aim to encourage women to go into the fields of science, technology, engineering and mathematics (STEM). HR 321, the INSPIRE Women Act, directs the head of NASA to encourage female students to study and pursue STEM careers, while HR 255, the Promoting Women in Entrepreneurship Act, encourages the National Science Foundation to support entrepreneurial programs for women in those fields.
"Great news. Really the way to go. Very heavy into the whole NASA situation. So women will be a big, big part of it," Trump said of the INSPIRE Women Act. He called the Promoting Women in Entrepreneurship Act "so important."
A bipartisan group of lawmakers, including Senators Joni Ernst (R-Iowa) and Heidi Heitkamp (D-North Dakota), were on hand, as were Pence, DeVos, First Lady Melania Trump and First Daughter Ivanka Trump.