EPA joins FDA to approve 3 types of genetically modified potatoes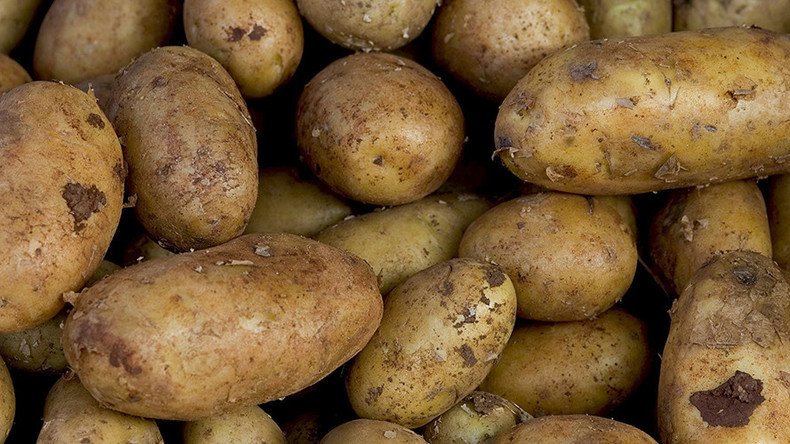 Three types of potato, genetically modified to resist the pathogen that caused the Irish famine, are safe for the environment, the Environmental Protection Agency has declared.
The EPA joins the Food and Drug Administration who approved the potatoes as safe to eat in early January.
The approval on Tuesday gives Idaho-based J.R. Simplot Company, self-described as one of the biggest privately owned food and agro-business companies in the United States, permission to plant the three types of potatoes this spring and sell them in the fall.
The three new varieties, Ranger Russet, Atlantic and Russet Burbank, under the company's Innate brand, are designed to minimize bruising and black spot, as well as reduce the amount of a chemical that is potentially carcinogenic that develops when potatoes are cooked at high temperatures, according to AP.
The trio are also engineered to resist the pathogen, a water mold, that caused the mid-19th century Irish potato famine. One million people died in the famine, and another one million emigrated.
Upwards of 90 percent of the soy and corn grown in the US is genetically modified, as is canola, with more than half of sugar beets grown from GMO seeds, according to EcoWatch.
The potatoes will be mostly grown in Idaho and Wisconsin and will be sold in supermarkets across the nation. One of the company's oldest business partners, McDonald's, has rejected using any of Simplot's genetically engineered potatoes.
The company will likely introduce the potatoes as pre-cut or pre-peeled potatoes for hotel convention centers and restaurants, "where the resistance to bruising makes them a good product," according to Doug Cole, the company's director of marketing and communications, who spoke to Phys.org in January.
Simplot is touting a promise that the 'new' spuds will allow farmers to dramatically reduce the amount of chemical pesticides they're forced to spray.
A New York Times article in October 2016, said that despite 20 years of research and development, the two premises that the biotech industry touted for the need for GMO crops - growing enough food to feed the planet and through engineering crops the need for dangerous chemicals will be lessened - newspaper found that the technology has not led to greater yields nor reduced pesticide use.


You can share this story on social media: