Trump's first address to lay out 'bold agenda' before Congress & immigrant guests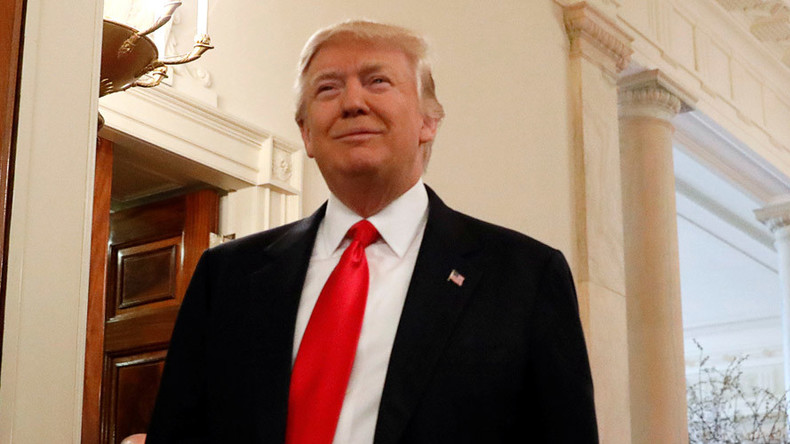 In his first address to Congress, President Donald Trump is expected to lay out a "bold agenda" to unite the country, reform healthcare and secure the borders. Democrats are responding by inviting immigrants, including some who are in the US illegally.
Trump will be speaking to the nation and members of Congress at the invitation of House Speaker Paul Ryan (R-Wisconsin), who announced last week that the address was arranged to bring the country together.
The speech is scheduled to be delivered from the US Capitol beginning at 9:00pm EST on Tuesday.
"With this unified Republican government, we have a unique opportunity to deliver results to the American people," said Ryan, adding "this will be an opportunity for the people and their representatives to hear directly from our new President about his vision and our shared agenda."
In a press briefing on Monday, White House Press Secretary Sean Spicer said the president will use the speech to refocus the American public on his policy priorities, and outline his vision for the country over the next four years.
Spicer says Trump will focus on his "bold agenda," which includes tax reform, a "patient-centered alternative" to the Affordable Care Act, and rebuilding America's military. Trump will also talk about some of his administration's key accomplishments so far, as well as his trade policies and plans for dealing with Islamic State (formerly ISIS/ISIL).
The president's press secretary also noted that Trump views these issues as "shared American values, regardless of party," and said the president will invite Americans of "all backgrounds to come together in the service of a stronger and brighter future for our nation."
The speech comes after Trump's first month in office, in which he has promised to deport illegal immigrants back to Mexico and signed an executive order banning immigrants from seven Muslim-majority countries in the Middle East.
The opposition Democrats have chosen undocumented immigrant Astrid Silva to deliver the party's response in Spanish, while former Kentucky Governor Steve Beshear delivers the response in English.
Several Democratic lawmakers have also announced they would be inviting immigrants as guests to the event.
Senator Dick Durbin (D-Illinios) has invited Aaima Sayed as his guest. Sayed, who was brought to this country when she was just three years old, is an undocumented immigrant who can only stay in the country thanks to the Deferred Action for Childhood Arrivals (DACA) program enacted by President Barack Obama in 2012. She is now a third-year medical student at Loyola University.
"Would the United States be better off if Aaima is deported to Pakistan, where she hasn't lived since she was a toddler, instead of using her talent as a physician to help low-income Americans? The answer is clear," Durbin said in a statement quoted by Politico. "I am honored to host this gifted young medical student as my guest. I hope her presence reminds President Trump what's at stake in the debate over DACA: the lives of more than 750,000 innocent young people and the wellbeing of entire communities."
Congresswoman Nydia Velazquez (D-New York) tweeted that her guest will be Hameed Darweesh, an Iraqi interpreter who worked for the US army for a decade, but was detained at JFK International Airport following Trump's travel ban in January.
Darweesh is also one of the lead plaintiffs in a lawsuit challenging Trump's immigration ban alleging that it violates immigrants' Fifth Amendment procedural and substantive due process rights.
In a press release, Congressman Luis Gutierrez (D-Illinois) said his guest would be Fidaa Elaydi, a Muslim immigration attorney and daughter of Palestinian refugees. Elaydi works with immigrants that are vulnerable to Trump's travel ban.
"I want Trump to see the face of a woman, the face of a Muslim, and the face of someone whose family has enriched and contributed to this country despite starting out as refugees," Gutierrez said, adding "Trump needs to know that real people are hurt by his policies and Ms. Elaydi can make that point in so many ways. I am looking forward to it."
Congresswoman Chellie Pingree (D-Maine) released a statement saying she was inviting Banah Al-Hanfy, a young Iraqi woman whose father served as an interpreter for the US military. Trump's travel ban also stopped Al-Hanfy from boarding a flight from Baghdad to Maine, separating her from the rest of her family.
"I hope the President will make clear tomorrow evening that his new immigration orders will not attack people who are coming to our nation legally simply because of their religion or country of origin," Pingree wrote, adding "I also hope Banah will hear President Trump express gratitude for those who've served our military as her father did."
In total, more than a half a dozen Democrats from the House and Senate are inviting undocumented immigrants who are currently protected under the DACA program, including Ami Bera (D-California), Jared Polis (D-Colorado), Jerrold Nadler (D-New York), Mark Pocan (D-Wisconsin), Nanette Barragan (D-California), and Lou Correa (D-California).