'Obama & his people' behind White House leaks, protests – Trump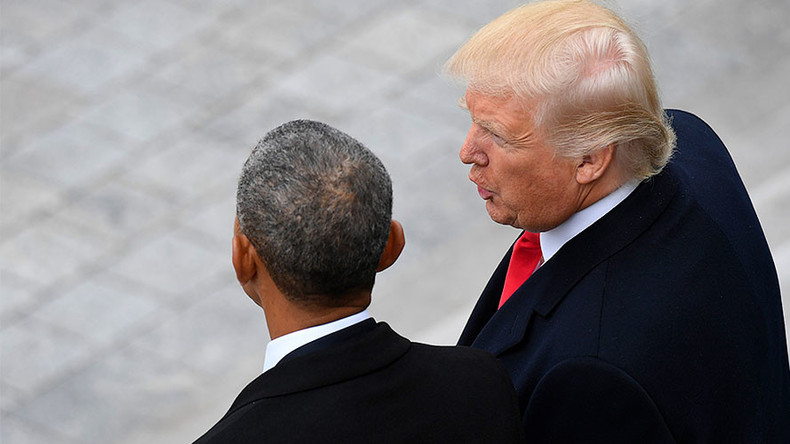 Barack Obama is behind the leaks of classified information from the White House and violent protests against the new administration, President Donald Trump has said in an interview with Fox News.
During the 'Fox and Friends' interview, aired Tuesday morning, the new Republican president was asked whether he thought his predecessor was behind the massive protests across the country since Trump's inauguration in late January.
"I think he is behind it. I also think it's politics, that's the way it is," Trump replied in the clip released on Monday night.
"I think that President Obama is behind it because his people are certainly behind it," Trump added.
"And some of the leaks possibly come from that group, which are really serious because they are very bad in terms of national security. But I also understand that is politics. In terms of him being behind things, that's politics. And it will probably continue," he said.
Earlier this month Trump voiced outrage over the leaks of transcripts of his outspoken telephone conversations with the leaders of Australia and Mexico, noting that his administration was hunting "very, very hard" for the whistleblowers.
In an interview with Fox News, Trump accused "Obama people" of giving news outlets the details of his phone talks, saying that the holdovers from the Obama administration still serving on his White House and National Security Council staff were being replaced.
"I would have handled it differently," he said of White House press secretary Sean Spicer's methods of hunting down leakers. "Sean handles it his way, and I'm OK with it."
Asked if he would step back from calling out his enemies on Twitter, Trump said the social network "does allow me to go around dishonest media."
"Most of the people that want me to stop it are the enemies," he said.
Trump stood by his intent do boost the military budget by $54 billion, saying the money would come from a "revved-up economy" and reimbursements from countries relying on US military to defend them.
"We will be having the greatest military that we ever had by the time I finish," he said.
Though he gave himself an A+ for effort and A for achievement for the first month of his presidency, Trump conceded his "messaging isn't good."
"I think I've done great things, but I don't think I've — I and my people — I don't we've explained it well enough to the American public," he said.
As for the protesters, Trump dismissed their criticism by saying that "a lot of the people that are protesting are the people that lost the election."