8 abandoned dogs rescued from DAPL during cleanup process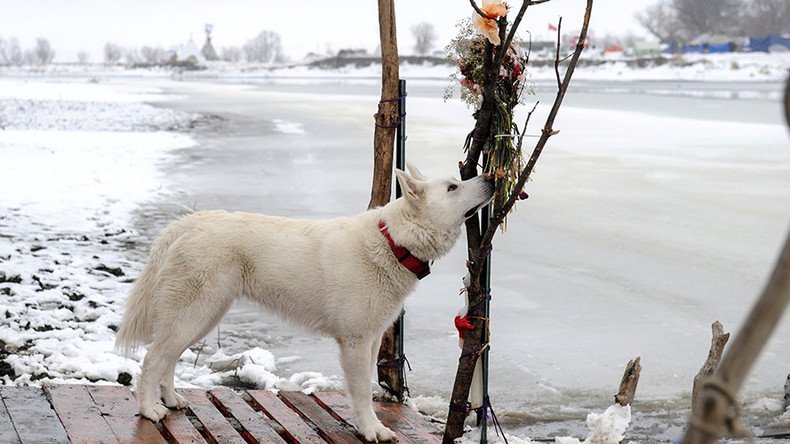 In the days after police cleared the last protesters from the the main Dakota Access Pipeline protest camp, several dogs and puppies were reportedly rescued during the cleanup process.
On Thursday, police in riot gear cleared out the remaining protesters from the Oceti Sakowin protest camp near the Dakota Access Pipeline (DAPL). After the fires were put out, the Army Corps of Engineers moved onto the camp site to begin the cleanup process on Friday.
READ MORE: Police & military clear DAPL protest camp, dozens arrested, protesters start fires (PHOTOS)
Along with clean-up crews, a local non-profit animal advocacy group, Furry Friends Rockin Rescue, searched for animals that might have been left behind. During their search, the group found two dogs and six puppies at the site.
The group's Facebook page says that they have been overwhelmed by potential adopters and are no longer accepting applications for the animals.
"If they stay with us, we help them find their forever home. If somebody has left the dog behind and they're looking for that dog, we hope they'll contact us so we can help them find their dog," Julie Schirado, the founder of Furry Friends told KFYR.
The group says that they are sure that many more animals are still at the site, and they are planning to return every weekend when they have enough volunteers and access to the place.
Furry Friends says that it is very difficult to capture the abandoned pets, who are frightened by the loud, heavy machinery that's being used to clean up the area.
"It's a mess down there, so it's really, really hard to find these animals and get them," Schirado said.
The dogs they have been able to capture showed health symptoms from being left out in the weather -- with frostbitten ears, wounded paws, patchy fur, signs of hypothermia, and a few cases of mange.
"Extremely sad seeing these guys that were left behind. But we offer, Furry Friends offers hope. I mean, there's so much hope within Furry Friends as far as these puppies finding homes,"Tiffany Hardy, a volunteer with the group, told KFYR.
It is not clear why the animals were left, or who they belonged to, but Furry Friends says they are not interested in the politics of the situation. According to them, the first priority is the animals' well being.
Those interested in helping or donating to Furry Friends can find the group online.
You can share this story on social media: