First ever tornado hits Massachusetts
Published time: 27 Feb, 2017 18:30
Edited time: 1 Mar, 2017 12:20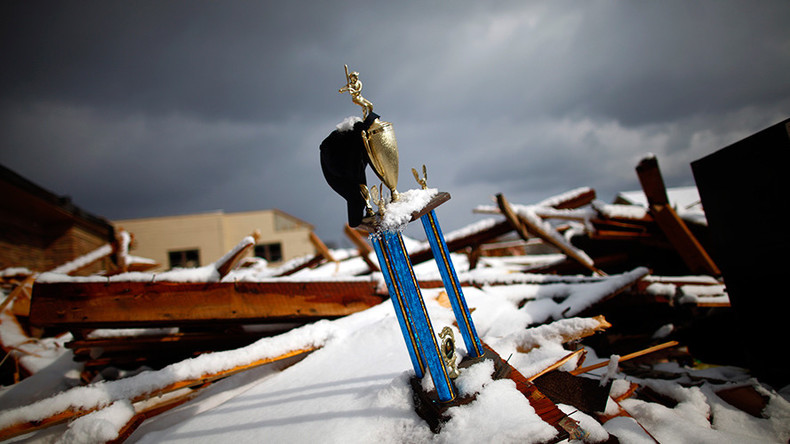 A tornado, packing winds of up to 110 miles per hour, has slammed into the tiny town of Conway, Massachusetts - the first ever in the state. The twister was so powerful it cut a 5-mile path, ripped roofs off houses, and left at least one person injured.
"This was a highly unusual occurrence. In fact, there has never been a tornado during the month of February since official tornado statistics have been kept, dating back to 1950," the National Weather Service (NWS) stated, confirming the EF-1 tornado hit the town of Conway on Saturday, with a brief touchdown in Goshen.
The tornado is said to have briefly touched down at approximately 7:18 pm Saturday in Goshen before it lifted and struck Conway from 7:20 pm to 7:25 pm. Its path varied from 50 to 200 yard as it tore through the downtown area.
"The tornado…touched down with a vengeance…in the western part of Conway," said NSW. "Roofs were blown off, with some metal wrapped around middle and upper portions of trees. In one case, the side walls of a house were missing with the interior of the house exposed. Numerous trees and power lines were down. One injury occurred when a tree landed on a house."
The storm initially left about 4,000 residents in the area without electricity, but power had been restored in most areas by Sunday afternoon, according to WCVB.
"Several people that we spoke to heard a tell-tale roaring sound and immediately sought shelter in their basements. It was very fortunate that nobody was killed in this event," the NWS said.
State officials will tour the damaged area on Monday afternoon.
WCVB also reported that residents in western Massachusetts were working to assess damage to their homes after a heavy storm swept through the area.