US to send F-35s to MidEast to fight ISIS in 'not too distant future'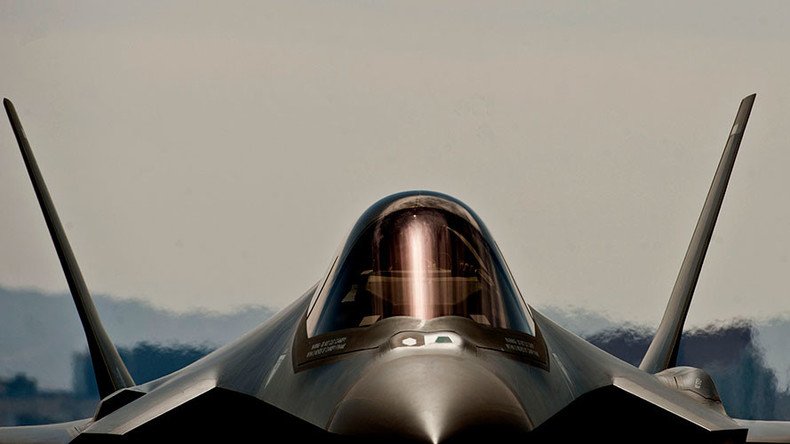 The US Air Force is mulling deploying F-35 fighter jets to the Middle East to step up efforts in battling Islamic State (IS, former ISIS/ISIL) terrorists sometime in the future, although the specific date is not set yet.
The deployment could take place in "not so distant future," General Herbert J. "Hawk" Carlisle, the outgoing head of the Air Combat Command, told journalists on Friday in Washington, DC. He also stressed that the Air Force is already discussing the first deployment of the new aircraft to the Central Command.
"It would deploy as an asset for the [Combined Forces Air Component commander] at Al Udeid [Qatar], so he would use it as he would see fit, and I would certainly expect it to participate in operations just like the F-22 is today," he said, as cited by Military.com.
He drew attention to the fact that the F-35s enhanced sensor fusion capabilities and the situation awareness could greatly contribute to conducting successful air strikes in Iraq and Syria by particularly decreasing the risk of mid-air collisions with Russian warplanes operating in the same area and detecting surface-to-air threats.
"If you look at portions of Syria, it's a pretty dense surface-to-air threat inside that arena," he said, as cited by Defense News. He added that both the US and Russia deploy air defense systems in the area to protect their facilities and assets.
"They're not illuminating our aircraft with any type of target tracking radars or anything like that in large numbers, or to any great extent that I know of… But their radars are active," he added, referring to the air defense systems deployed by Russia to Syria.
However, Carlisle said, "The Middle East deployment isn't imminent, it's planned for a few years out," adding that small detachments of F-35s would be sent to Europe and Asia-Pacific region first. That deployment that could tack place as early as this spring would show if the new jets are ready for combat deployment, as well as whether the F-35 maintenance and logistics infrastructure is mature enough to support such operations.
According to the US Air Force, Russian planes allegedly don't "squawk" (carry transponders that send a four-digit number allowing air-traffic controllers to identify them), and fail to timely answer "guard calls," which are urgent summons on an emergency radio frequency.
Earlier, senior US Air Force officers accused Russian jets of flying dangerously close in Syria, provoking an angry reaction from the Russian Defense Ministry. In January, Moscow for its part issued a statement, saying the US Air Force and the US-led international coalition attempted to act "secretively" during operations in Syria.
"Our American colleagues don't like to notify [us] about their plans to use combat aircraft, only occasionally indicating the time period and an approximate area. But not the specific types of aircraft and their affiliation," the statement said at that time.
The mutual flight safety memorandum, agreed by the US and Russia in October 2015, regulates the flight paths and contacts of the countries' air forces in Syria during an emergency situation. The two countries also set up a hotline for their militaries to discuss the approximate locations and missions of planes in an attempt to avoid operating in the same airspace at the same time.
You can share this story on social media: