Russian strategic bombers hit ISIS in Raqqa in coordination with Pentagon via 'deconfliction line'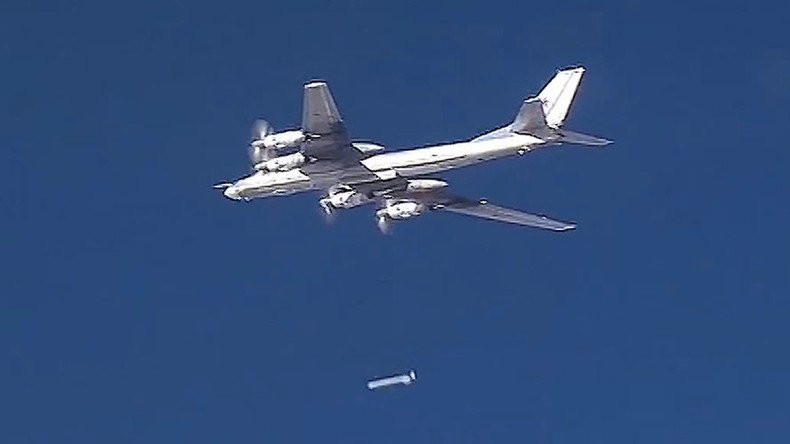 Russian Tu-95 bombers have struck Islamic State (IS, former ISIS/ISIL) targets in Syria's Raqqa region using X-101 cruise missiles, the Russian Defense Ministry said in a statement, adding that it informed the US about the operation.
"On February 17, 2017, strategic missile carrying Tu-95 bombers made an operational flight from the territory of the Russian Federation over the territories of Iran and Iraq and conducted an air strike against Islamic State terrorists' objectives in the Raqqa region using X-101 cruise missiles," the ministry's statement says.
It also says the Russian bombers hit the terrorist's bases and training camps as well as a command center of one of Islamic State's "large detachments," adding that all objects were successfully destroyed.
READ MORE: Russian long-range bombers target ISIS positions in Deir ez-Zor Governorate, Syria
In Syria, the bombers operated under cover of Su-30 and Su-35 fighter jets scrambled from the Khmeimim Airbase in Syria's western Latakia region. The bombers then returned to their bases in Russia, the statement says.
The ministry also said it notified Washington about the strikes in advance using the "de-confliction" hotline. In October 2015, Russia and the US agreed to a flight safety memorandum which regulates flight paths and to inform each other of an emergency situation in Syria establishing the hotline to avoid dangerous aerial incidents in Syrian airspace.
Colonel John Dorrian, the spokesman for Combined Joint Task Force, confirmed it received the notification via the hotline.
De-confliction of air ops w/Russia continue. Today they conducted ops in vicinity of #Raqqah. So did @CJTF-OIR.

— OIR Spokesman (@OIRSpox) February 17, 2017
In January, Russia dispatched long-range bombers to Syria. On January 21, six supersonic Tupolev Tu-22M3 bombers conducted air strikes against Islamic State targets in the Syrian governorate of Deir ez-Zor. The Russian planes hit IS base camps, weapon stockpiles, and armored vehicles.
You can share this story on social media: