False flags: 'Russian Trump pennants' prank at CPAC causes social media meltdown
Published time: 24 Feb, 2017 19:19
Edited time: 25 Feb, 2017 13:39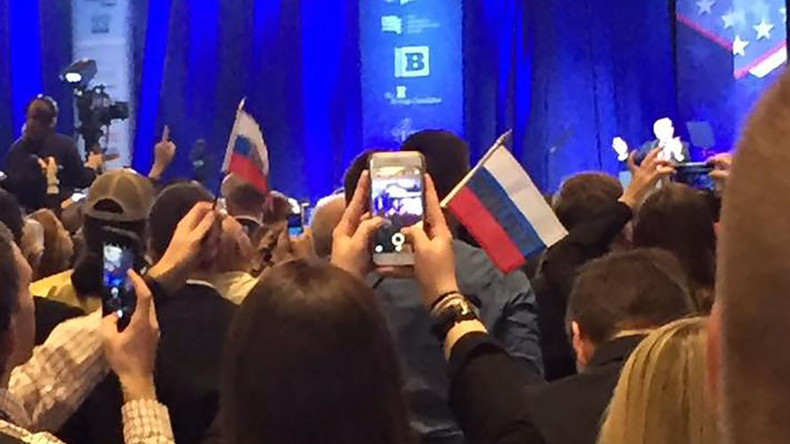 Critics of President Donald Trump were quick to take offense at "Russian flags" handed out to the audience for his speech at the Conservative Political Action Conference. Staff rounded up the flags and accused an activist of handing them out as a prank.
Trump addressed the conference on Friday morning, following appearances by Vice President Mike Pence and senior White House staff the day before. Former CNN reporter Peter Hamby was first to notice the flags – a white, blue and red tricolors with "Trump" printed in gold block letters on the blue stripe.
Hamby's pictures were quickly shared far and wide, with a variety of outlets critical of Trump – from Vox to Raw Story – using this as proof of his alleged "Russian connection." Democrats have accused Trump of being a "puppet" of Russian President Vladimir Putin and blamed Hillary Clinton's stunning electoral defeat to "Russian hacking."
Former CIA agent Evan McMullin, put forth as a rival to Trump by the establishment wing of the Republican party, jumped on the bandwagon as well.
The flags "appeared to be a prank," The Hill reported. CPAC officials told Daily Mail Reporter David Martosko that "liberal activist Ryan Clayton" was responsible.
Clayton was reportedly ejected from the conference.
"We brought in the flags for a little bit of satire, for a little bit of humor for this ever-dreary narrative that's been going on," Jason Charter, one of the activists involved in the prank, told RT.
He confirmed working with Clayton to buy a number of Russian flags and print Trump's name on them, then distribute them to the audience at CPAC. The stunt intended to show "that Donald Trump and Russia have very strong ties and that something needs to be done about it," he said.