Cost of guarding Trump Tower drops by $10mn, but still huge security nightmare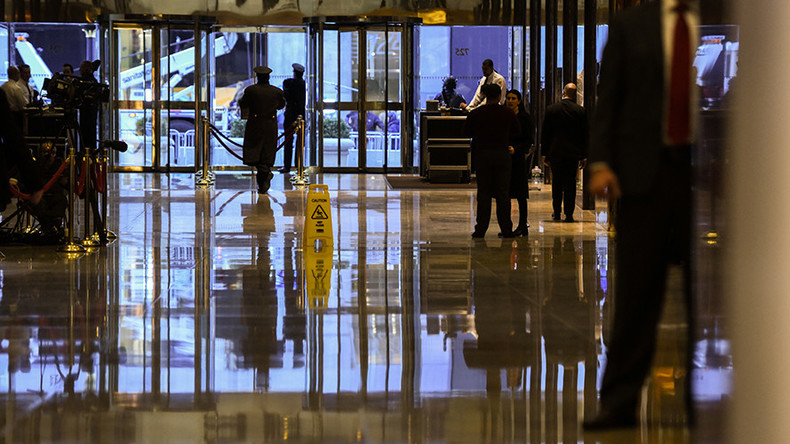 In a letter addressed to Congress, the NYPD reduced its reimbursement claim for the cost of providing security for the Trump family's stay at the Trump Tower from a hefty $35 million to a more manageable $25.7.
In the letter, the department's commissioner, James O'Neal, describes the "unique and unparalleled" task of trying to defend one of the most exposed structures in all of New York.
Sandwiched between high-rise hotels and boutiques on one of the city's busiest streets, Trump Tower is 58 stories of mixed-use space.
The initial estimate of $35 million turned out to be inflated, but the cost of the First Family staying in New York, as well as at the Tower between Election Day and Inauguration Day, still comes to $24 million, or $25.7 million if you factor in the fire department, which has had to reallocate people and resources to deal with the unusual circumstances.
The Tuesday letter from O'Neal, which details the spending of both the NYPD and FDNY, puts the daily cost "to protect the first lady and her son while they reside in Trump Tower" at $127,000-$146,000. That figure jumps by more than two-fold when President Donald Trump himself is staying in the building. Annually, this comes to $50 million if the president doesn't set foot in Manhattan, or $60 million if he comes on the weekends.
FDNY spending for just Melania Trump and son, Barron, will run the city an additional $4.5 million.
"The NYPD now serves a dual role in protecting the First Family and securing Trump Tower while simultaneously acting as a municipal police department charged with serving and protecting the millions of residents, visitors, and workers in the city," the commissioner writes.
He also points out that "Moreover, Trump Tower itself now presents a target to those who wish to commit acts of terror against our country, further straining our limited counterterrorism resources."
An NYPD spokesman speaking to POLITICO explained that the "initial estimate to provide security for Trump Tower was calculated using anticipated costs. Subsequently, modifications were made to the security plan, and the amount was recalculated using actual costs."
O'Neal finishes his letter by saying that, by approving the reimbursement of costs, Congress will allow the NYPD to continue performing the "dual mission of securing a presidential residence while protecting and serving the millions of Americans who live in, work in, and visit our great city."
To date, the federal government has reimbursed the city to the tune of $7 million.