Bull run, New York-style: Bovine on the loose leads cops on hours-long chase
Published time: 21 Feb, 2017 20:49
Edited time: 22 Feb, 2017 12:22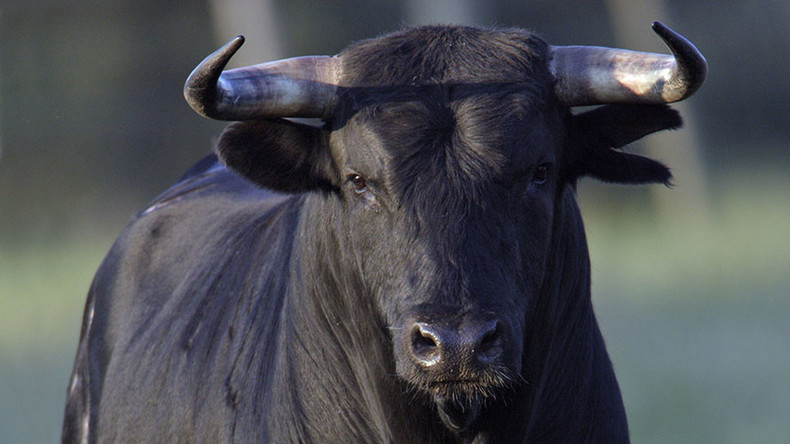 A bull rampaged through New York streets, leading police on an hours-long chase before being recaptured.
The bold bovine made its first bolt for freedom to a housing project playground in Jamaica, Queens on Tuesday after escaping a slaughterhouse.
"I saw this big black thing running with all this drool from its mouth like it was ready to eat something alive," said neighbor Kenneisha Cassan, 27, according to the Daily Mirror.

Police first received a call about the bull at 10:20am, according to an NYPD spokesperson, and were able to corner the animal in a backyard and pepper him with tranquilizer darts.
"A least four or five cops tried to back him into the playground, and he wasn't having it," Cassan said. "He was like, 'No, I'm not trying to get killed today.'"
As police were clearing the block, the bull sprang between police cars and escaped again, leading slaughterhouse employees on a chase.
The fleet-footed animal then went on run through the neighborhood, leaving chasing police in his wake.
Cellphone video captured the bull run.
Eyewitnesses described the "horrifying" moment when they spotted the animal.
"I busted a U-turn and I'm like, I'm going where this is going, because I've never see anything like this in my life."
A butcher told CBS Local that a large group of cattle were being moved from the slaughterhouse on Jamaica Avenue and he believes this one may have heard a noise, got scared and escaped through the fencing.

Police were trying to get workers to come to the scene to capture it.
More than an hour later, police cornered the bull again, delivering more sedation for its final capture.
A crew from an animal sanctuary is on the way to the scene to get the animal.
This is not the first bull that has roamed the streets of Queens. A bull named Frank managed to escape from a slaughterhouse in 2016. It wandered onto CUNY York College campus before it was captured by officials.
The bull was taken to an Animal Care Center facility in Brooklyn, police said. Former Daily Show host Jon Stewart picked up the bull and transferred it to an animal safe haven in Watkins Glen, New York.
A cow named "Freddie" also escaped from the same slaughterhouse. It was captured quickly, but a New Jersey animal rights activist took Freddie in at his animal sanctuary in Wantage.
City officials told WNBC that the bull died at some point before 2:30pm, nearly three hours after it escaped a Beaver Road slaughterhouse.
The animal's cause of death wasn't immediately clear, and city officials had no further comment.