'Have you got justice yet?': Nation of Islam leader criticizes Trump, Democrats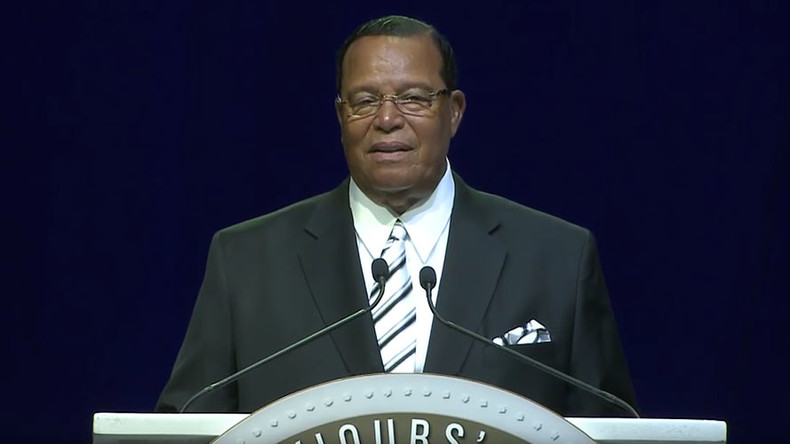 Speaking before an audience of thousands in Detroit, Nation of Islam leader Louis Farrakhan said that African Americans shouldn't place their faith in Democrats or Republicans, criticizing both parties for neglecting the black community.
"Most of you are so hurt because Queen Hillary lost," Farrakhan said on Sunday, the final day of the Nation of Islam's annual convention, according to the Detroit News. "And some of you have cussed me out because I didn't vote for her. I didn't vote for Trump. I knew both of them is the same. You ain't going to get nothing from either one, but more deceit from Hillary, but more straight talk from Trump."
"He told you, you didn't have nothing to lose. You've been a Democrat all your life and don't have a damn thing to show for it," he added to loud applause from the crowd.
The comments were made during a three-hour speech on the final day of the Nation of Islam's annual celebration which was sold out. Farrakhan has been highly critical of mainstream political parties, the US government and what he sees as the shortcomings of the African-American community.
Farrakhan lampooned the audience for being Clinton supporters and said the candidate had nothing for them.
"You've been marching on Washington for a long time. Marching for what? Jobs and justice. '63 jobs and justice. '83 jobs and justice. '93 jobs and justice. Have you got jobs yet? Have you got justice yet?" Farrakhan asked the crowd, to which a voice replied "No, sir."
"That these people are going to give you what our people need, deliver decent life and have a good quality of life, you are out of your mind!" Farrakhan said.
On Sunday, Farrakhan spoke about how the Republican-dominated Congress worked against President Barack Obama during his administration. He was less kind during the election year, castigating the outgoing president for prioritizing gay Americans and Israel over the needs of African-Americans.
Farrakhan recounted comments he has heard from black youth in Chicago, who claim the president "ain't never come" to the Illinois city. "There's your legacy, Mr. President," he said in September last year, according to The Blaze.
Minister Farrakhan hosted a nationwide tour in October, before the election, telling attendees a vote for either candidate won't benefit black people.
"I'm here to talk to all of you who are shaking in your boots" over Trump being president, Farrakhan said. "What are we going to do, that crazy man. He's president and he don't like black people. He doesn't like Mexicans. He don't like Muslims. Maybe so. Who cares?"
"We don't give a damn what he likes or what he doesn't like," added Farrakhan. "Have no fear for the future. The future is not his. The future is ours."
As for Trump's controversial leadership style, Farrakhan said "The forces that killed (President John) Kennedy, the same forces that killed (President Abraham) Lincoln, the people who really run the country, are evaluating Donald Trump right now to see if he can be controlled. He's not being controlled right now."
The Nation of Islam was originally founded in Detroit by W. Fard Muhammad in 1930. Farrakhan recast the organization in the 70s, and its headquarters are now in Chicago.
Farrakhan, who led the 1995 Million Man March in Washington, DC, strongly praised the Women's March in Washington, DC, held the day after Trump's inauguration.
"That was one of the greatest demonstrations I have seen in the history of protests," Farrakhan said. "It was a protest against men… who have mistreated women, and put women down," he said.