Top intel officials say allegations of Trump campaign link to Russia 'complete garbage' – Priebus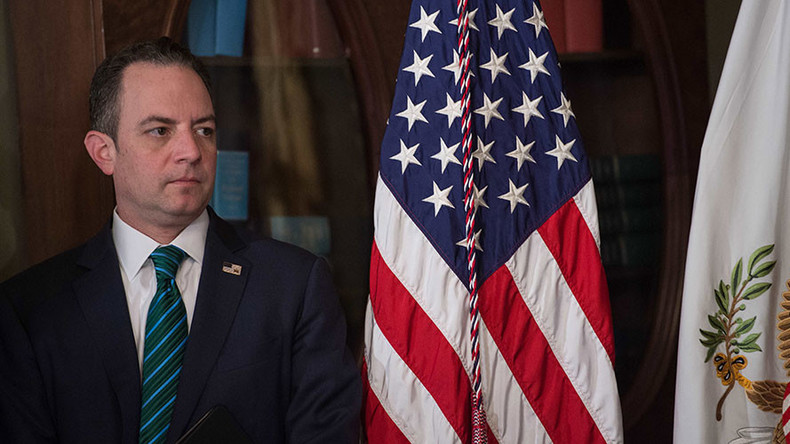 News reports of US President Donald Trump's team having contacted with Moscow before the US presidential election are "not only grossly overstated, but also wrong," White House Chief of Staff Reince Priebus said, citing top US intelligence officials.
"I can assure you, the top levels of the intelligence community have assured me that [the allegation] is not only grossly overstated, but also wrong," Priebus said in an interview with 'Fox News Sunday.'
"They have made it very clear that the story is complete garbage," he added.
Priebus declined to name his sources within the CIA and FBI, according to the report.
"There are certain things that are happening in the news that just aren't honest," the White House official added, when asked to comment on Trump's relations with the media.
This week, the New York Times published a report claiming that "members of Donald J. Trump's 2016 presidential campaign and other Trump associates had repeated contacts with senior Russian intelligence officials in the year before the election." Citing "current and former American officials," the report suggested there were "phone records and intercepted calls" to prove the allegations.
Priebus had already denounced the report, saying not "a single bit of evidence" has been seen to support it.
"Top levels of the intelligence community... have greenlighted me to say that I have talked to the highest levels of intelligence officials and they have assured me that the New York Times story about constant contact is grossly overstated and inaccurate," Priebus said in an interview with 'Fox and Friends' on Friday.
During his first solo press conference since becoming president, Trump on Thursday refuted reports of his connections with Russian intelligence, calling "the whole Russian thing... a ruse." The president said he wanted normal relations with the Kremlin, but blamed the media for trying to prevent it.
"The false, horrible fake reporting makes it much harder to make a deal with Russia," he said, adding, "It would be great, if we could get along with Russia... You had a lot of presidents that have not taken that tack. Look where we are now."
You can share this story on social media: