White House denies AP report of plan for 100,000 troops to round up immigrants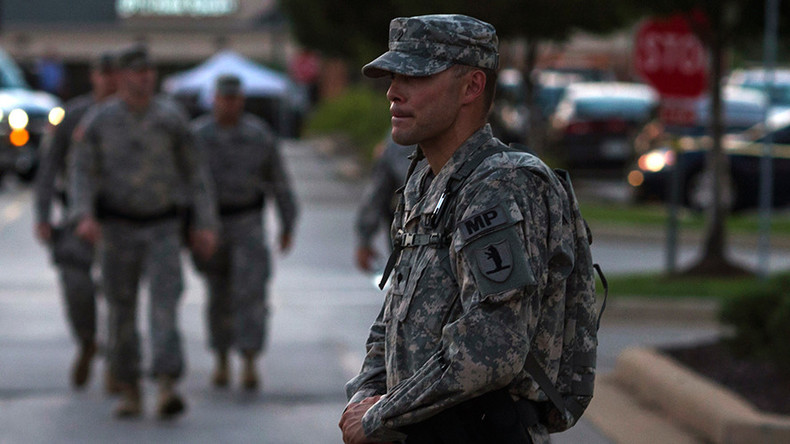 The Trump administration is considering mobilizing as many as 100,000 National Guard troops to round up illegal immigrants, according to a draft memo obtained by AP. The White House said the agency's report is "false," however.
What the AP called "unprecedented militarization of immigration enforcement" would affect locations as far north as Portland, Oregon and as far east as New Orleans, Louisiana, according to the 11-page document, purportedly written by Homeland Security Secretary John Kelly.
The proposal would four states bordering on Mexico – Arizona, California, New Mexico and Texas – as well as the seven neighboring states of Arkansas, Colorado, Louisiana, Nevada, Oklahoma, Oregon and Utah. Governors in the eleven states would have a choice whether to have their guard troops participate in the round-up, according to AP.
The White House responded to the news with only one word: "False," according to Reuters.
David Lapan, a spokesman for the Department of Homeland Security, also said the department was "not considering mobilizing the National Guard for immigration enforcement."
"This is not true," White House spokesman Sean Spicer tweeted about the AP report, adding that Homeland Security confirmed it as "100 percent false."
According to AP, the draft memo was dated January 25 – the day President Donald Trump issued an executive order "enhancing public safety in the interior of the United States" – and has been circulating among Homeland Security staff for the past two weeks. It is reportedly addressed to the acting chiefs of the US Immigration and Customs Enforcement and Customs and Border Protection.
The draft memo says the mobilized National Guard troops would be activated under a revived state-federal partnership program and authorized "to perform the functions of an immigration officer in relation to the investigation, apprehension and detention of aliens in the United States."
AP posted a photocopy of the draft memo shortly before 12:30pm Eastern Time on Friday. A TIME magazine reporter posted a PDF shortly after noon.
You can share this story on social media: