Pick-up truck inferno: Dashcam footage shows moment cop took extraordinary action (VIDEO)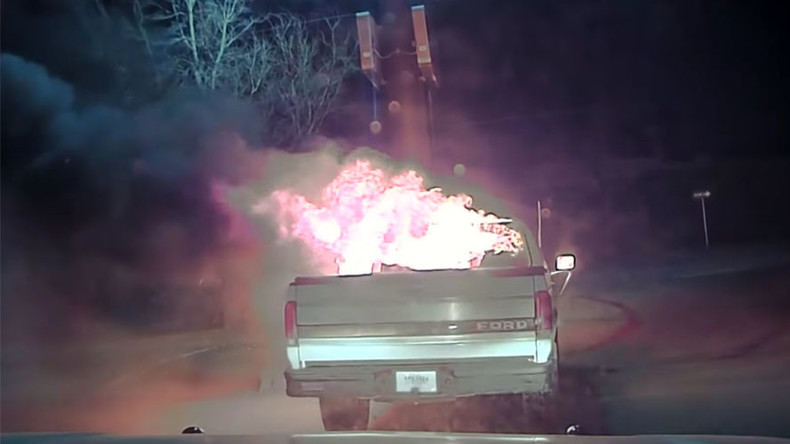 Dash cam footage has captured the actions of a Texas police officer who came to the rescue of a restaurant by using his patrol car to push a flaming pick-up truck out of harm's way.
The incident took place in the city of Glenn Heights, about 20 miles (32km) south of Dallas, Texas. Officer Chris Womack responded to a fire at a Jack In The Box fast food restaurant. When he arrived at the scene, Womack found a Ford truck engulfed in flames dangerously close to the restaurant, with flames licking the side of the building.
READ MORE: Cop cheats death in last-minute leap as car hurtles toward him (VIDEO)
Dash cam footage taken from inside Womack's vehicle and released by the police department shows his car speed up to the drive-thru with sirens blazing.
Womack drives the cop car over the curb to better maneuver into position behind the truck. He then used the dispatch car's horsepower to shunt the flaming Ford away from the restaurant.
"My adrenaline was going a little bit," Womack told Fox. "But in the video, I've watched it a couple of times, I'm breathing pretty heavily. Well, that's because the windows were down and I didn't have the train of thought to roll the windows up during it."
READ MORE: Georgia cop dies after inhaling liquid nitrogen during sperm bank rescue
After moving the truck, Womack then radioed back to base to tell them that he pushed the truck into the parking lot, but he's not sure if the restaurant had caught on fire.
Some flaming debris can be seen on the ground but further examination revealed that the restaurant had escaped unscathed. Glenn Heights police said that no injuries were reported.
"I would like to commend Officer Chris Womack. Due to his courage and quick thinking he was able to prevent a burning vehicle from causing major damage to the Jack in the Box and protecting the employees," the police department said on their Facebook page.