Authorities ignored California dam warning for 12 years, say environmentalists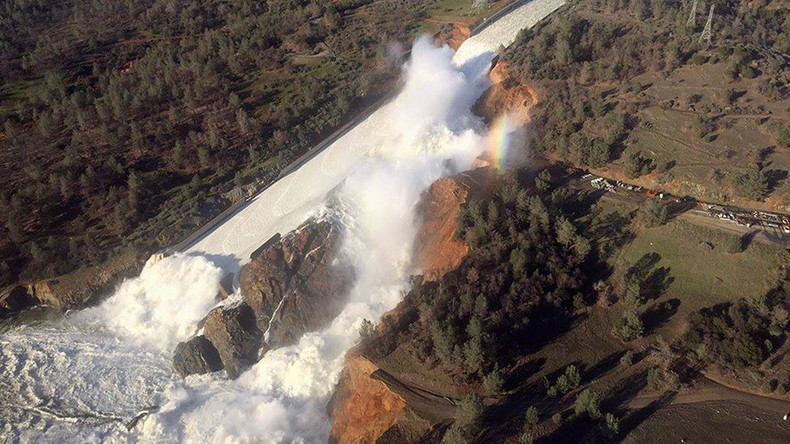 A warning issued 12 years ago that California's Oroville Dam could be at risk of eroding was apparently ignored by the authorities. America's tallest dam was reported to be at risk of collapsing Sunday night, forcing mass evacuations.
A document released by three environmental groups more than a decade ago said that the dam's "ungated spillway" design could result in the "loss of crest control" and threaten people's lives.
The potential risk from the Oroville Dam was highlighted in a motion from October 2005 by three environmental groups – Friends Of The River, Sierra Club, and South Yuba River Citizens League (SYRCL) – which was sent to the Federal Energy Regulatory Commission.
The document resurfaced when SYRCL said in its statement on recent events with the dam that it had raised the issue back in 2005. The group also released a link to the 2005 motion.
Back then, the groups called on the commission to check the existing structures at the dam, and if necessary to "reconstruct the ungated spillway and to make any other needed modifications so that the licensee can safely and confidently conduct required surcharge operations consistent with the Corps of Engineers Oroville Dam Reservoir Regulation Manual."
"A loss of crest control could not only cause additional damage to project lands and facilities but also cause damages and threaten lives in the protected floodplain downstream," the report stated.
According to the report, "the consequences of an ungated-spillway design that results in significant damages under operational use conditions have important policy and operational implications."
On Sunday some 188,000 people were evacuated from California towns downstream of the Oroville Dam, after fears of an imminent collapse of the dam's spillway prompted an evacuation order.
The situation later appeared to be less dire, as the California Department of Water Resources (DWR) issued a statement saying that there was no danger that the dam itself would collapse, as the incident had affected only an emergency spillway.
SYRCL reacted to the incident, saying that the situation "is extremely concerning."
"Once the danger has passed, we will have time to do a full analysis of this situation, especially how extreme flood events will impact the future of public safety and river management in Northern California," Caleb Dardick, executive director of SYRCL, said in a statement.
Late Monday the California governor asked President Donald Trump for help amid recent fears of an imminent collapse of the Oroville Dam spillway. He requested an emergency declaration in the states affected by the disaster.
"I respectfully request that you issue an Emergency Declaration for Direct Federal Assistance for the Counties of Butte, Sutter, and Yuba, as a result of the potential failure of the lake Oroville Dam emergency spillway," Governor Jerry Brown wrote in a letter to President Trump.
You can share this story on social media: