Cities across US report deep snow, strong winds and... foul odors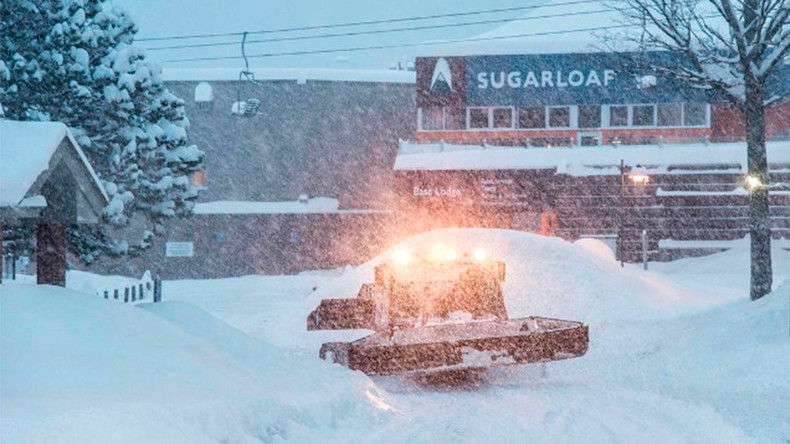 Citizens across the US have good reason to stay home from work. While New England has been pummeled with snowstorms, rainstorms and other extreme winter weather, Houston, Texas, has a conundrum of their own: a foul smell.
It's been a brutal few days weatherwise in the US. Following last week's Northeastern snowstorms, New England was buried under snow and if Monday's storm was any indication, they're still in the midst of some rough winter weather. Cary, Maine, reported 30 inches of snow after a storm began Sunday, according to the Associated Press.
Authorities in Kennebunk, Maine, warned that winds as strong as 35mph could result in limited visibility.
In New Hampshire, the storm resulted in flights being canceled and hundreds of schools closed. However, the storm did not hit as hard as anticipated and only resulted in scattered power outages.
However, residents of Houston, Texas, faced a much stranger problem from their weather. On Monday morning, many Houstonians were concerned over a foul odor, according to a tweet from the Houston Fire Department which said they were "experiencing an increase in 911 calls b/c of suspicious odor."
Many complained that the city "smelled like burning" plastic.
Luckily the smell wasn't cause for concern. It was just the result of some unusual circumstances. A burn off, or release of a chemical from an industrial plant's flame, created a cloud that settled over the city and caused a haze. In addition, an inversion - or an atmospheric shift that puts higher temperatures higher than colder temperatures, preventing cold from rising up. Inversions are easiest to spot when clouds are low and cotton ball-like, according to KHOU.
Combined with a wind pattern that pushed the cloud towards Houston, it created the stinky fog.
You can share this story on social media: