Number of US seniors on multiple psychotropic drugs doubles over decade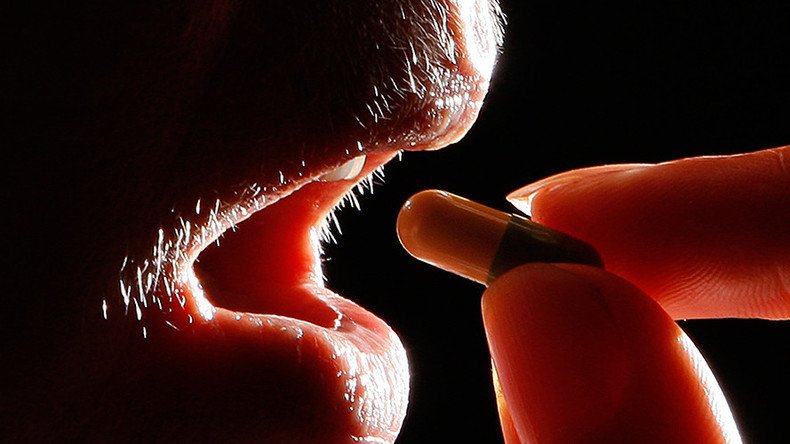 The number of retirement-age Americans being prescribed multiple psychiatric drugs without a recorded mental health diagnosis has increased, despite government warnings against over-prescribing such medications, a new study has found.
Between 2004 and 2013, the number of older Americans taking three or more psychiatric medicines ‒ known as "polypharmacy" ‒ doubled from 0.6 percent of doctor visits to 1.4 percent, even though half of those patients had not been diagnosed with a mental health disorder, the study published Monday in the medical journal JAMA Internal Medicine revealed.
Extrapolated to the US population over the age of 65, that would mean an increase from 1.5 million annual doctor visits a year involving seniors taking three or more psychiatric drugs to 3.68 million doctor visits.
There are both positives and negatives to glean from such findings, according to Dr. Donovan Maust, the study's lead author and a geriatric psychiatrist at Michigan Medicine.
"The rise we saw in these data may reflect the increased willingness of seniors to seek help and accept medication for mental health conditions – but it's also concerning because of the risks of combining these medications," he said in a statement. "We hope that the newer prescribing guidelines for older adults encourage providers and patients to reconsider the potential risks and benefits from these combinations."
In September, the US Food and Drug Administration (FDA) issued a black-box warning - its strongest alert - against combining opioid medications with benzodiazepines and other drugs that depress the central nervous system (CNS) or with alcohol because of "serious risk and death."
"Health care professionals should limit prescribing opioid pain medicines with benzodiazepines or other CNS depressants only to patients for whom alternative treatment options are inadequate," the safety announcement read. "If these medicines are prescribed together, limit the dosages and duration of each drug to the minimum possible while achieving the desired clinical effect."
In 2015, the American Geriatrics Society updated the Beers Criteria, its guidelines for prescribing drugs to older people, raising concerns for the first time about CNS pharmacology as potentially inappropriate for seniors.
"I was stunned to see this, that despite all the talk about how polypharmacy is bad for older people, this rate has doubled," Dr. Dilip Jeste, a professor of psychiatry and neurosciences at the University of California, San Diego, who was not involved in the study, told the New York Times.
The sharpest rise in psychiatric pharmacology occurred in rural areas, where the rate more than tripled. The researchers surmised that limited access to specialty care and a preference to receive treatment from primary care doctors has led to the expansion of CNS prescriptions outside of psychiatrists' offices.
"The growth in polypharmacy in rural settings, where access to specialty mental health or pain care is particularly limited, is part of this broader trend," they wrote.
It suggests "that the increases partly reflect doctors and patients falling back on medications when they have little access to other options," Dr. Mark Olfson of Columbia University, one of the co-authors of the study, told the New York Times. Those options could include everything from talk therapy to relaxation techniques like yoga or massages. Only 10 percent of visits studied included such alternatives to psychiatric drugs.
Nearly half ‒ almost 46 percent ‒ of people with at least three prescriptions had no diagnosis of a mood, chronic pain or sleep problems, the study found.
"This is a particularly worrisome pattern and suggests some inappropriate prescribing," Olfson said, stressing the need for alternatives.
The research team from the University of Michigan and VA Ann Arbor Healthcare System analyzed data collected from a representative sample of doctors' offices by the US Centers for Disease Control and Prevention during that 10-year span.
Maust, along with colleagues, recently published two other papers on the use of CNS drugs in older patients. A study published in December found that, in 2010, 5.6 percent of doctor visits by people aged 65 or older included a prescription for a benzodiazepine tranquilizer. More than a quarter of those same visits also included a prescription for an antidepressant, while 10 percent included a prescription for an opioid drug.
Only 16 percent of those who continued to receive a benzodiazepine prescription had a diagnosed mental health condition, and almost none were referred to psychotherapy.
Another paper, published in January, found that more than half of older patients who had been prescribed an antidepressant for depression by their primary care physician, rather than for an off-label use, did not meet the criteria for Major Depressive Disorder.
You can share this story on social media: