'Going to be a big punch': Northeast braces for biggest blizzard of the year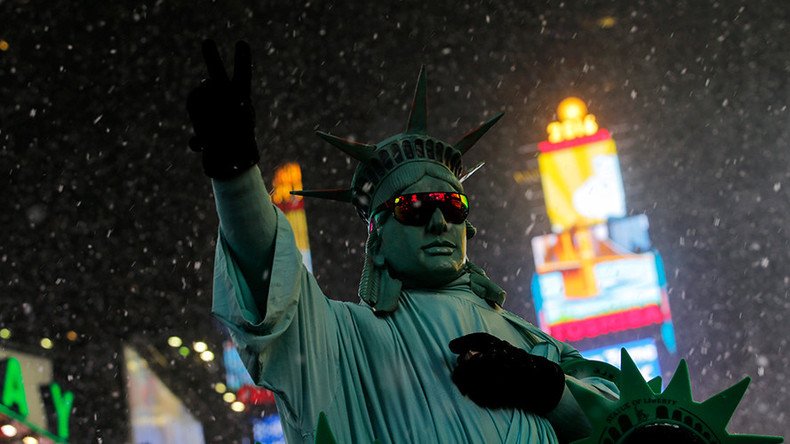 Winterstorm Niko is anticipated to bring a foot or more of snow to densely populated areas of the Northeast, including New York City and Boston, causing closures of schools, highways and airports.
Winter storm warnings have been issued by the National Weather Service for large portions of the Northeast, stretching from Pennsylvania to coastal Maine on Thursday morning.
NWS predicts that Boston and New York City will get eight to 14 inches of heavy snow accumulation.
White-out conditions are expected as areas are predicted to receive two to four inches of snow an hour during the storm's peak, which NWS says will begin between 5am and 8am Thursday morning, right in time for the morning commute.
"This is going to be a big punch," Benjamin Sipprell, a meteorologist with the National Weather Service in Taunton, Massachusetts, told the Associated Press.
A blizzard warning has been issued for Cape Cod, Martha's Vineyard and Nantucket in Massachusetts, as well as eastern and central Long Island in New York.
More than 2,500 flights scheduled for Thursday were canceled as of Wednesday afternoon, according to FlightAware.
New York City Mayor Bill De Blasio announced that schools would be closed Thursday, along with after-school activities.
Schools in Philadelphia, Boston and Connecticut, among other areas, will also be closed Thursday morning.
Officials in Boston have advised motorists to avoid the roads Thursday, as icy conditions on Wednesday morning already caught MassDOT and state officials off guard, leading to one of the worst morning commutes in recent memory.
The storm comes as a surprise to residents in the Northeast, who have been experiencing warmer weather than usual, with Philadelphia and New York seeing temperatures of 60 degrees on Wednesday.
"I've never seen anything like this in my life," Mayor de Blasio told USA Today. "What feels like a summer day almost, now, and then tomorrow a blizzard. But it's going to be a blizzard and New Yorkers should get ready."
NWS warns that heavy snow can make travel dangerous, and advises that if you must travel, you should keep an extra flashlight, food, and water in your vehicle in case of an emergency.
You can share this story on social media: