Trump calls courts 'so political' ahead of 'travel ban' verdict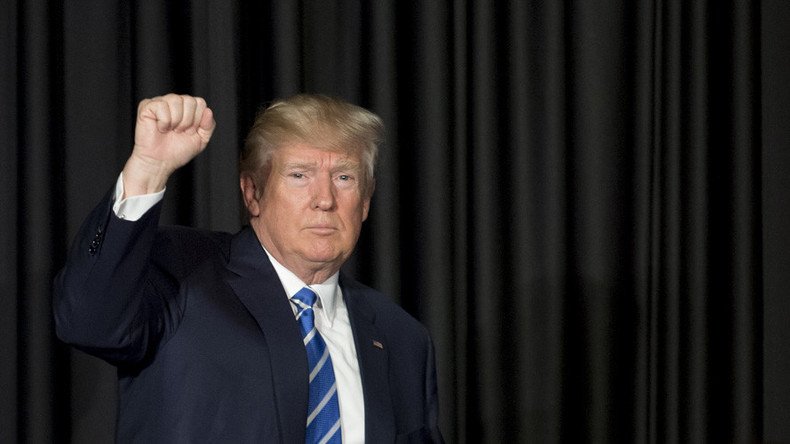 President Trump has said that US courts are "so political" during a speech to law enforcement officials, as his administration awaits a ruling on whether his controversial "travel ban" is lawful or discriminates against Muslims based on their religion.
"I don't ever want to call a court biased," Trump said during a speech at the Major Cities Police Chiefs Association Conference in Washington on Wednesday. "So I won't call it biased. And we haven't had a decision yet. But courts seem to be so political."
"It would be so great for our justice system if they [the courts] would be able to read the statement and do what's right."
He read text from the law which he used to implement the travel ban, stating that it clearly allows a president to suspend entry to those he or she believes would be a detriment to national security.
"A bad high school student would understand this," Trump said. "Anybody would understand this."
The president's comments come as his administration awaits a verdict from the San Francisco-based 9th US Circuit Court of Appeals on whether he was within his authority to issue the travel ban against citizens from seven mainly Muslim countries – Iraq, Syria, Iran, Sudan, Libya, Somalia and Yemen.
That verdict could be delivered as early as Wednesday.
Trump tweeted earlier Wednesday, "If the US does not win this case as it so obviously should, we can never have the security and safety to which we are entitled. Politics!"
If the U.S. does not win this case as it so obviously should, we can never have the security and safety to which we are entitled. Politics!

— Donald J. Trump (@realDonaldTrump) February 8, 2017
The appeals court heard arguments for and against the ban on Tuesday, with an attorney for the Justice Department arguing that Trump has the authority to identify risks to national security and react with an executive order such as the travel ban.
Meanwhile, an attorney for the state of Washington, which filed the initial suit against the ban alongside Minnesota, argued that there is "shocking evidence of intent to discriminate against Muslims," which is unconstitutional.
US District Judge James Robart in Seattle ruled last week that Washington and Minnesota had standing to challenge Trump's ban, and placed a hold on the executive order.
Trump later lashed out at Robart, calling him a "so-called judge."
The travel ban has led to numerous protests across the US and the world, with leading tech companies including Google, Apple, Microsoft, and Facebook speaking out against the executive order.
Meanwhile, Trump has denied that the ban is targeted against Muslims, continuously maintaining it is a matter of security, rather than religion.
"To be clear, this is not a Muslim ban, as the media is falsely reporting. This is not about religion — this is about terror and keeping our country safe," Trump said in a statement following his signing of the executive order.
You can share this story on social media: