'Absolutely violation of our democracy': Jill Stein encourages DAPL & travel ban protests (VIDEO)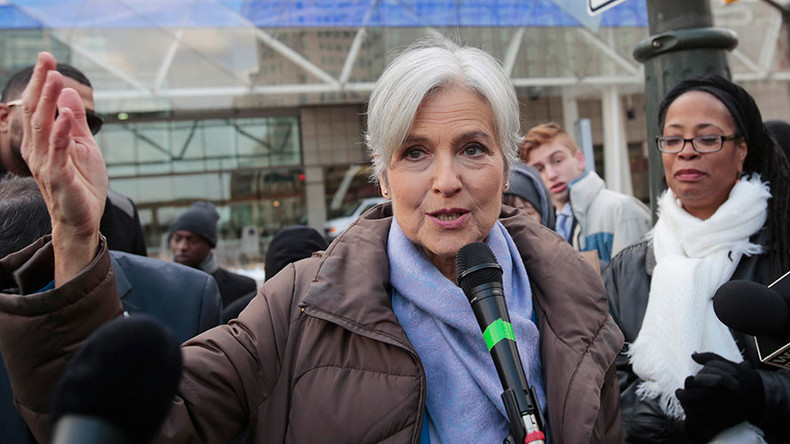 Green Party leader Dr. Jill Stein has called for more demonstrations, saying democracy is "under attack" from President Donald Trump's US entry ban on citizens of seven Muslim-majority nations and easing of requirements for oil pipeline construction.
The progressive activist joined RT America's Ashlee Banks to give her take on the latest developments concerning the Dakota Access Pipeline, as well as Trump's controversial immigration order.
"This is democracy that's under attack. This is our rights to peacefully protest, which are under assault. This is the water protectors who are standing up for the [Missouri River] water supply [that] up to 17 million Americans depend on," Stein said.
"It's absolutely a violation of human rights, of our water rights, of our climate, and of our democracy," she stressed.
Stein hopes that, with public pressure, a judge will stop the DAPL permit process.
"I really urge people, if you are able-bodied, go there and stand with Standing Rock. This executive order to expedite the permitting of this illegal and dangerous pipeline is very much a violation of basic treaty rights and my hope and assumption is that this will be denied in a court of law," she said.
When asked about the Army Corps of Engineers study, which is yet to be concluded, Stein said the agency "should proceed in consultation with the indigenous people who are protected by treaty to be consulted and to permit, to agree to, whatever development plans are going to take place on their historic land."
Stein reminded viewers that there is still a chance to make their voices heard at public hearings on the pipeline.
"This is an opportunity for all of us to stand up and say, 'this is the water supply, this is the climate, this is our democracy and human rights that all of us depend on,'" she said.
Stein is also a big supporter of nationwide protests against Trump's recent executive order that prohibits people with passports from Iran, Iraq, Libya, Somalia, Sudan, Syria and Yemen from coming to the US, saying it is a return to the "Muslim ban" that Trump promised on the campaign trail, but later backpedaled on.
"There are exceptions carved out here for the countries that Donald Trump has business with, his aspirations in Saudi Arabia, his golf courses in United Arab Emirates," she said.
Stein rejected the administration's line that refugees and immigrants from the countries on the ban list who have already gone through the vetting process could still pose a national security threat. Instead, she sees the travel restriction as a propagandistic gift to Islamic State [formerly ISIS/ISIL].
"In fact, the real danger to US security is being orchestrated right now by the Trump administration, who are playing right into the hands of terrorists by validating their belief that this country is very much opposed to Muslims and the Muslim faith," she told RT.
You can share this story on social media: