Americans raise $975k to rebuild Texas mosque that perished in fire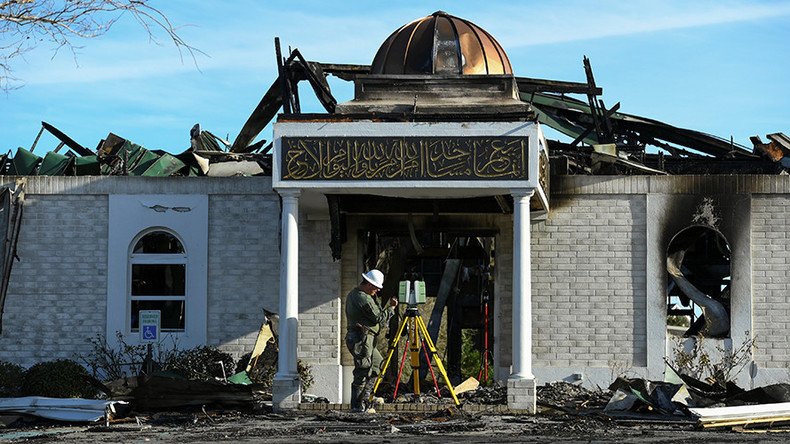 The Islamic Center of Victoria, Texas has received nearly $1 million in charitable donations to rebuild the mosque that recently burned down. Local, state and federal officials are still looking into what caused the conflagration.
Imam Osama Hassan noticed that the mosque was on fire early Saturday morning, as he kept an eye on the surveillance cameras because the building had been burglarized recently. Though the firefighters responded immediately, the wooden-frame building was devastated by the blaze. It did not have fire insurance.
"I don't know what to say," mosque member Walid Taha told the Victoria Advocate on Monday, as he surveyed the damage. "The whole building, it's burned down."
There has been an outpouring of support for the burned-out congregation, however. The GoFundMe page set up for the mosque raised more than $600,000 in the first 24 hours and overshot the $800,000 mark by Monday morning. By Tuesday afternoon, the contributions exceeded $977.000.
"Our hearts are filled with gratitude for the tremendous support we've received The outpouring of love, kind words, hugs, helping hands and the financial contributions are examples of the true American spirit," said the message from the mosque, posted on the page.
"This shows there are a lot more good people in the world than bad people," Hassan told the Victoria Advocate. "The people of Victoria help us to rebuild this place again. Just all of us, we would never be able to rebuild it. It's impossible for our small community."
"I think every single person in Victoria supports us," said Taha. "I'm proud to be and live in Victoria."
Fire and police officials from the city, county, state and the federal Bureau of Alcohol, Tobacco, Firearms and Explosives (ATF) were helping with the investigation into what caused the fire, according to Victoria Fire Marshal Tom Legler. It could be months before they know anything for sure, Legler said.

Victoria is a city in southern Texas, about 115 miles southwest of Houston, with about 63,000 residents.
There were no fatalities in Saturday's blaze. On Sunday, the orange stray cat that had made the mosque its home a few months earlier showed up alive and well, and was promptly adopted by Jenin, the daughter of Abed "Abe" Ajrami, the Advocate reported. Jenin is now doting on "Nacho."
"I'm really happy he survived the fire, and I'm really happy that he is home with me," she said.
The mosque was built in 2000. Someone left a severed pig's head outside the building shortly after the 9/11 terrorist attacks in 2001. During Ramadan in 2013, a local teenager spray-painted "H8" on the building, putting the mosque into national spotlight. He apologized and did not face charges.
You can share this story on social media: