Battery-powered revolution: Tesla storage plant to power 15K Californian homes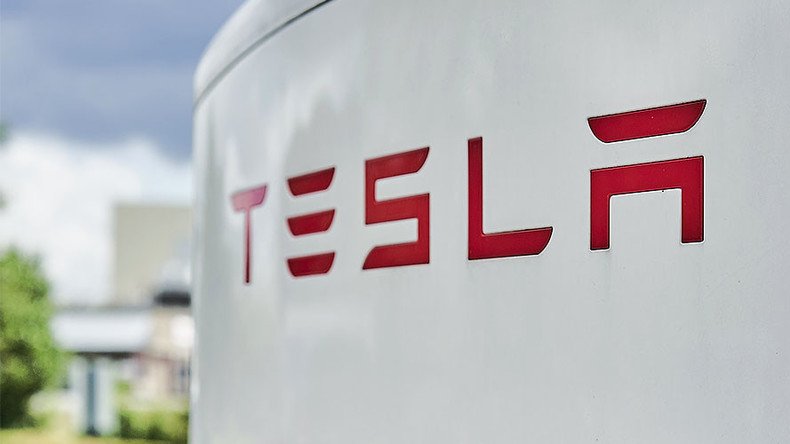 Small batteries make big difference for Californians as Tesla storage plant goes live providing power for 15k homes. The pilot project is aimed at curbing power outages and replacing fossil-fueled grids.
Tesla's 80 megawatt storage station at Mira Loma substation uses 400 of the company's new Powerpack 2 lithium-ion batteries, and works by sucking up the power generated by renewables such as wind and solar energy during the day and feeding it back into the system on demand when the sun sets.
"It's sort of hard to comprehend sometimes the speed all this is going at," said J B Strubel, Tesla's Chief Technology Officer, according to Bloomberg. "Our storage is growing as fast as we can humanly scale it."
The massive gas leak at the aging Aliso Canyon gas storage facility which for months leaked gas into the homes of LA's Porter Ranch neighborhood in 2015, prompted Southern California Electric to commission energy storage deals to alleviate the risk of winter blackouts.
The request was also spurred by either the closure or phasing out of the state's ageing nuclear plants.
"I had relatively limited expectations for the battery industry in advance of 2020. I thought that it would not really accelerate and begin to penetrate the electric grid or the transportation world for a while to come," Michael Picker, president of California Public Utilities Commission said, according to the New York Times. "Once again, technology is clearly moving faster than we can regulate."
Two other storage projects are due to go online along with the Tesla station.
Altagas Ltd is joining the grid with its natural gas generator battery project in Pomona, and AES is doing final testing on a 30/120 megawatt plant.
The price of lithium ion batteries has plummeted to almost half in recent years driven by the increasing demand for electric cars leading to a new scale of battery storage manufacturing. Those factors have made battery plants a viable alternative to natural gas-burning "peaker" plants that go online as needed during peak energy use hours.
"There were teams working out there 24 hours a day, living in construction trailers and doing the commissioning work at two in the morning," Tesla's Strubel said about the plant that was completed in just under three months. "It feels like the kind of pace that we need to change the world."
Using a battery to meet demand peaks means it will likely be fully charged and discharged nearly every day. Such demand puts a lot of strain on lithium batteries, which degrade as they get older and are cycled more often. But there are advantages especially in a state like California with strict environmental regulations. Battery plants take up a much smaller footprint than gas-power plants, they don't pollute and their instant response can provide valuable services better than any other technology.
Tesla thinks it can continue to scale the new system quickly and meet is ambitious goal of delivering 15 gigawatt hours of battery storage a year by 2020.
You can share this story on social media: