'Trump is here now': JFK passenger assaults Muslim airline employee, charged with hate crime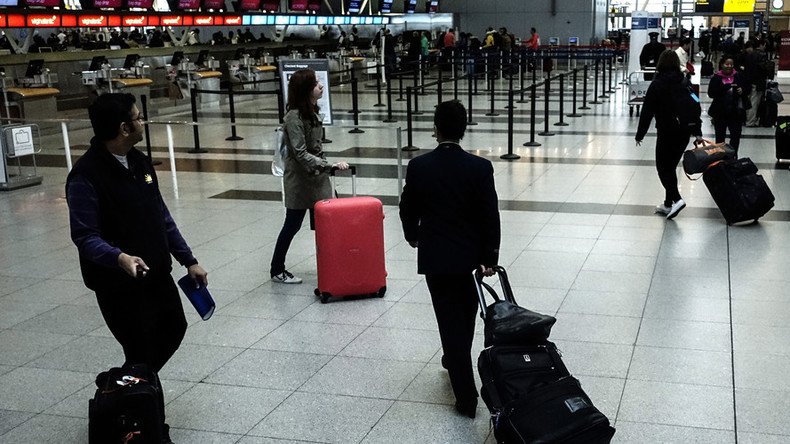 A Massachusetts businessman is facing hate crime charges after he reportedly shouted slurs at and kicked a Muslim airline employee at New York's John F. Kennedy International Airport. If convicted of all charges, he could face four years in prison.
According to prosecutors, Robin Rhodes had arrived at JFK Airport from Aruba and was waiting for a connecting flight to Massachusetts, when came up to the door of an office in Delta Sky Lounge on Wednesday evening and asked airline employee Rabeeya Khan, who wears a headscarf (hijab): "Are you [expletive] sleeping? Are you praying? What are you doing?"
Rhodes then punched the door, which hit the back of Khan's chair, prosecutors said. She then asked Rhodes what she did to him. Rhodes responded, "You did nothing but I am going to kick your [expletive] ass."
Rhodes reportedly kicked Khan in the right leg. In an effort to get away, Khan moved into a corner of the office, but Rhodes kicked the door, stepped into the office and blocked her from leaving, according to prosecutors.
Someone came over to the office and tried to calm Rhodes down, according to prosecutors. As Rhodes moved away from the door, Khan ran out of the office to the lounge's front desk.
Rhodes followed her, got down on his knees and began to bow in imitation of a Muslim praying and shouted, "[Expletive] Islam, [Expletive] ISIS, Trump is here now. He will get rid of all of you. You can ask Germany, Belgium and France about these kind of people. You will see what happens."
"I guess I am going to jail for disorderly conduct. I couldn't tell if it was a man or a woman because their back was to me and they had something covering their head," Rhodes reportedly told police when he was arrested.
Khan suffered pain in her right leg and was afraid he was going to hurt her some more, according to the statement.
Rhodes has been charged with hate crime, harassment, assault, unlawful imprisonment and menacing and being held on $30,000 bail. Rhodes is due back in court next month. If convicted, he could face up to four years in prison.
His mother told WNBC the behavior described by authorities was uncharacteristic of her son, the president of Nitrofreeze Cryogenic Solutions, a metals company in Worcester. Rhodes is "very kind" and goes out his way to hire people of different race and ethnicities at the company, she said.
"The bigotry and hatred that the defendant is accused of manifesting and acting upon have no place in a civilized society – especially in Queens County, the most culturally diverse county in the nation," Queens District Attorney Richard Brown said in a statement Thursday. "Crimes of hate will never be tolerated here and when they do, regrettably occur, those responsible will be brought to justice."
You can share this story on social media: