'Responsibility to lead': May urges Republicans to embrace US-UK special relationship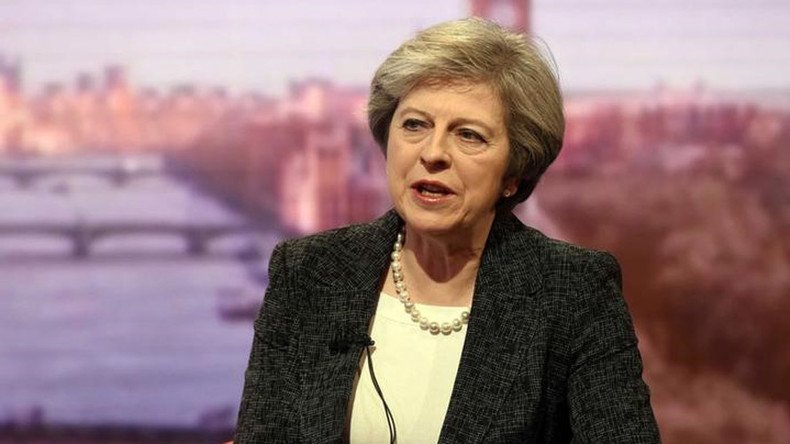 UK Prime Minister Theresa May urged the Republican US lawmakers to continue the "special relationship" that has shaped the world affairs for decades, calling it "one of the greatest forces for progress this world has ever known."
May was addressing the Republican members of the US Congress at their working retreat in Philadelphia, Pennsylvania on Thursday, following an earlier speech by President Donald Trump. She is supposed to meet with Trump on Friday in Washington, DC.
"It has been America's destiny to bear the leadership of the Free World," May told the cheering GOP lawmakers, adding that it has been a privilege of the UK "to share that burden and to walk alongside you at every stage."
May credited the US with helping "maintain freedom in Europe" by intervening in WWI, and "defeating fascism" in WWII. These interventions showed that "open, liberal societies will always defeat those that are closed, coercive and cruel," she said.
The British PM painted a picture of the US and UK as key partners in "opening the world" for freedom based on the common heritage going back to the Magna Carta.
May said she was particularly proud, as leader of the Conservative Party, to address her American counterparts "as dawn breaks on the new era of American renewal."
Leaving the EU will enable Britain to become "even more global and internationalist in action and in spirit,"May told the GOP lawmakers, defending Brexit.
"Sovereign countries cannot outsource their security and prosperity to America," the PM said, seconding US President Donald Trump's call for US allies to pay more for their military commitments.
"Our two countries together have a responsibility to lead," May said, because if others do, "it is bad for Britain, bad for America, and bad for the world."
Speaking about the struggle against Islamic State (IS, formerly ISIS/ISIL or Daesh), May urged caution to differentiate its "extremist and hateful ideology" from the "peaceful religion of Islam."
"With President Putin, my advice is to engage but beware," May said, noting that conflict between the West and Russia is not inevitable but urging the US and the UK to "engage with Russia from the position of strength."
The US-UK special relationship, May said, was "one of the greatest forces for progress this world has ever known."
You can share this story on social media: