'Fix crime rate or I'll send in feds' – Trump to Chicago Mayor Rahm Emanuel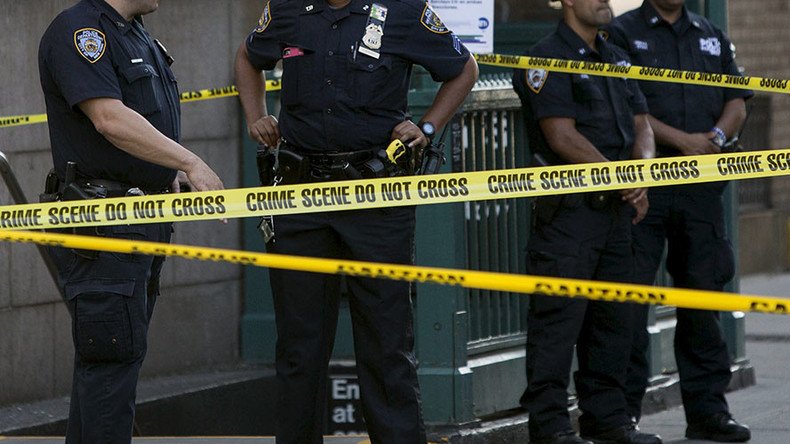 US President Donald Trump has warned Chicago he will "send in the feds" if city officials fail to bring the crime rate under control. The city has so far had more shootings and homicides in 2017 than at the same time last year, according to reports.
In a tweet on Tuesday, Trump stated that if Chicago doesn't fix the growing crime problem, which he slammed as "horrible carnage," he will resort to federal intervention to quell the violence.
If Chicago doesn't fix the horrible "carnage" going on, 228 shootings in 2017 with 42 killings (up 24% from 2016), I will send in the Feds!

— Donald J. Trump (@realDonaldTrump) January 25, 2017
The newly-inaugurated president did not specify, however, the kind of federal intervention he meant – whether it is federalization of the local police, sending in the FBI or another federal agency, or some other course of action.
According to figures cited in his tweet, Trump appeared to be reacting to a story published by the Chicago Tribune this Monday, where the news outlet reported that at least 228 people have been shot in Chicago so far this year, which is a 5.5 percent increase from the same period in January 2016. The Tribune also reported at least 42 homicides as of Monday morning, an increase of 23.5 percent.
Chicago Police Department spokesman Frank Giancamilli disagreed with the Tribune over the numbers, noting that according to police data, there have been 182 shootings in the city this January – "exactly flat from last year," as cited by Reuters.
The Tribune stuck to its figures, however, suggesting the city was on track to exceed last January's 50 homicides, the most for the month in 16 years.
With a population of 2.7 million people, Chicago had more shootings and homicides last year than any other US city, according to Chicago Police statistics, cited by Reuters. Chicago's homicide toll for 2016 was 762, the highest since 1996. Its murder clearance rate, which measures the solved and closed cases, remains one of the lowest in the country.
Chicago murder rate is record setting - 4,331 shooting victims with 762 murders in 2016. If Mayor can't do it he must ask for Federal help!

— Donald J. Trump (@realDonaldTrump) January 2, 2017
Earlier this month, Trump already pointed to the fact that the city's murder rate was "record setting," warning that if the mayor [Rahm Emanuel] can't cope with the situation, "he must ask for Federal help." Tuesday's statement is the first on the matter expressed by Trump as president.
One of Trump's first promises during his inauguration speech was to "empower our law enforcement officers to do their jobs and keep our streets free of crime and violence."
"The Trump Administration will be a law and order administration. President Trump will honor our men and women in uniform and will support their mission of protecting the public. The dangerous anti-police atmosphere in America is wrong. The Trump Administration will end it," reads a brief posted on the White House website right after the inauguration.
The brief comes at a time of widespread support in the US for police reform. Nationwide protests call for transparency and accountability in law enforcement in the wake of the 2014 killing of Michael Brown in Ferguson, Missouri, as well as other cases of police abuse, especially against African Americans.
Less than two weeks ago, the US Justice Department published a damning report on the Chicago Police, accusing them of regularly using force which was "unjustified, disproportionate and otherwise excessive."
"Chicago Police Department (CPD) engages in a pattern or practice of using force, including deadly force, in violation of the Fourth Amendment of the Constitution," the DOJ said in the report. The report stated that Chicago Police have unfairly targeted minorities and used "unreasonable force" on predominantly black and Latino neighborhoods, causing a breakdown in police-community trust.
"The city fails to investigate the majority of cases it is required to investigate by law," the DOJ said. It also pointed out that, even when an investigation is launched, it is "aimed at eliciting information favorable to the officer."
You can share this story on social media: