1 in 3 Californians supports secession – poll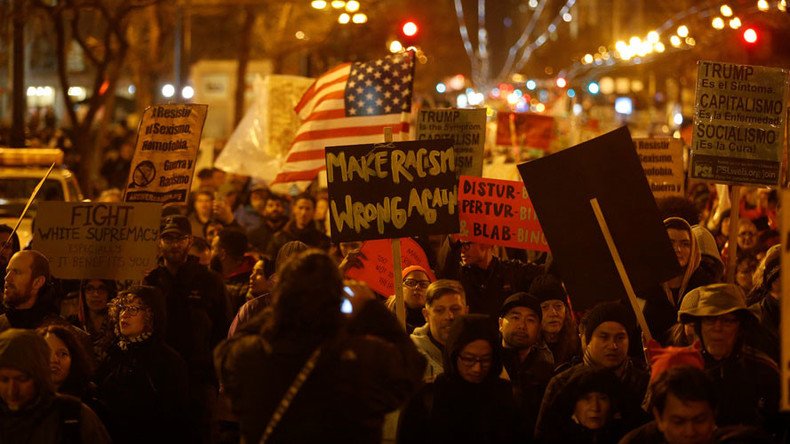 The number of Californians who would rather see their state a sovereign nation than part of the United States has jumped to 32 percent, a new Reuters/Ipsos opinion poll showed. In 2014, it was only 20 percent.
The support for independence in the Golden State also by far surpasses the national average, which stood at 22 percent, down 2 percentage points from the level in 2014.
The poll was taken from December 6 to January 16 and has a credibility interval of 5 percentage points in California.
The support for independence apparently rose in the wake of Donald Trump's election in the November presidential election. California voted overwhelmingly for his rival Hillary Clinton, who scored almost 62 percent of votes compared to Trump's less-than-32 percent.
The gap was historically fourth-biggest in the state and translates into a 4.3 million difference in votes. Californians' preference of the Democratic candidate was a major factor behind her winning the popular vote.
During the latest wave of anti-Trump protests in the US an estimated 1.2 million people took to the streets in California.
With 39 million residents and the sixth-largest economy in the world, California could theoretically do well as a sovereign state. But in practice breaking away would be a political, legal and potentially military challenge for the state.
But a secessionist group called 'Yes California' is hopeful that it can be reached. Last week it filed a petition with the state attorney general's office, asking to prepare a referendum on 'Calexit', or California exit from the US.
"In the Spring of 2019, Californians will go to the polls in a historic vote to decide by referendum if California should exit the Union, a #Calexit vote," the group said on its website.
The idea must first win support via the November 2018 ballot. Under the group's proposal, the state would go independent if 50 percent of voters cast ballots and at least 55 percent of them support Calexit.
You can share this story on social media: