Spicer spars with media over 'always negative' reporting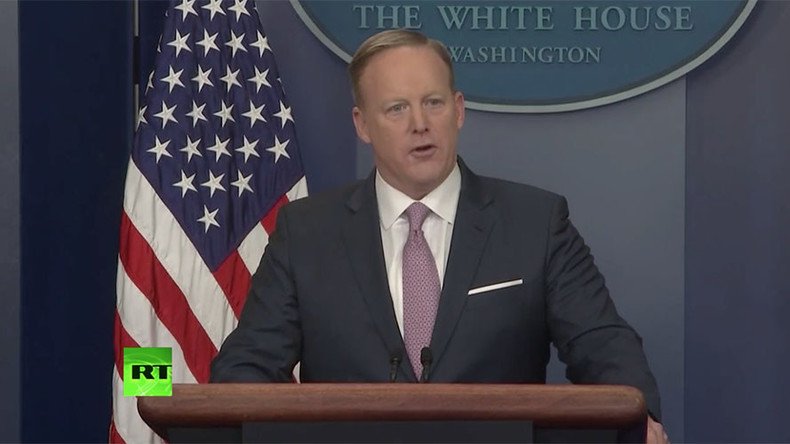 White House press secretary Sean Spicer held his first regularly scheduled press briefing, answering questions from White House journalists for the first time, and offering a more conciliatory note than his previous appearance in the briefing room.
"I was going to start with a recap of the inauguration, but I think we've covered that pretty well," Spicer joked as he walked in, referring to a spat from over the weekend. The new press secretary also kidded about emailing Obama spokesman John Earnest to say that he could "keep his title" as journalists' favorite press secretary "at least for a few days."
'Our intention is never to lie'
Spicer dedicated a large chunk of the hour and a half briefing to following up on the souring relationship between the new administration and the press.
"It's an honor to do this, and I believe we have to be honest with the American people. Our intention is never to lie," Spicer said. However, he added, it has to be a two-way street, and the press can't always portray a negative image of the Trump administration and constantly give the executive branch hurdles that the media says they can't overcome. Such media portrayals are "demoralizing" and create a false impression for the American people, Spicer said.
"When we're right, say we're right. When we're wrong, say we're wrong. But it's not always negative," he said.
Things got off to a rocky start on Saturday, President Donald Trump's first full day in office. First, Trump spoke at CIA headquarters in front of the memorial to fallen agents, where he told agency employees that the "dishonest media" was to blame for his supposed "feud with the intelligence community." He also claimed that the press skewed attendance figures for his inauguration, saying that there were "a million, a million and a half people" at the ceremony, while media said there were between 250,000 and 500,000 attendees.
Hours later, Spicer headed into the White House Brady Briefing Room, where he berated the media for for "deliberately false reporting" on the crowd's size, then left without taking questions. He was attacked from all sides for the five-minute statement.
"I mean he has people comparing him to Baghdad Bob the first day in office, saying, 'I can't trust this guy,'" CNN media analyst Bill Carter said.
Ari Fleischer, a former White House press secretary under President George W. Bush, told "Fox & Friends" that the Trump administration got off on the wrong foot by using "shaky statistics" to pitch their first battle to "push back" at the media.
On Sunday, Kellyanne Conway, a top Trump aide, appeared on NBC's "Meet the Press," where she told host Chuck Todd that Spicer used "alternative facts" in his statement about attendance.
"You're saying it's a falsehood and Sean Spicer, our press secretary, gave alternative facts to that," she said.
"Alternative facts aren't facts, they are falsehoods," Todd responded.
White House chief of staff Reince Priebus also made the rounds on the Sunday morning talk shows, blasting the media for their "obsession... to delegitimize this president," even as the press fought back against misinformation from the administration.
On Monday, Spicer didn't apologize for his statements or offer a correction, but said he had offered the facts available to him at the time, similar to the way that the press must sometimes issue retractions.
All the news that's fit to talk about
The new press secretary promised to "stay here today as long as you [journalists] want," adding that the press "might want to leave before I do." The first question Spicer took was from the New York Post, which is owned by Fox News' parent company News Corp.
Spicer answered a wide range of questions, from the administration's plans regarding Obamacare and fighting Islamic State (IS, formerly known as ISIS/ISIL) to no longer participating in the Trans-Pacific Partnership (TPP) trade agreement. Throughout the briefing, he stressed that Trump would do what is best for the American people and businesses.
"You're going to see a lot more of that, a listening president," Spicer said. Trump wants to know what he can do to make American lives better.
Trump has a mandate "to make healthcare more accessible," Spicer said. Although the president's replacement plan hasn't been finalized yet, Spicer promised "bipartisan support" for it because it will reach more people, get prices under control and let people keep their doctors and insurance plans ‒ all things that he said Obamacare didn't do.
When asked if the Trump administration is ready to work with Russia in the fight against IS, Spicer replied that the president is ready "to work with any country that helps us defeat ISIS," including Russia. When asked if he's ready to work with Syrian President Bashar Assad, he said: "Let's not get ahead of ourselves."
Regarding pulling the US out of the TPP, Spicer said that Trump will focus more on bilateral, rather than multinational, agreements because pacts like the TPP or NAFTA aren't in the United States' best interests. Such bilateral agreements, especially with those countries that negotiated the TPP, will provide a "check" on China, thus strengthening US national security in the Pacific, Spicer said. The president spoke with top US business leaders Monday morning to ask them questions and to make sure that the world knows that this administration is about "America first."
You can share this story on social media: