Trump signs order to 'ease burden of Obamacare' before it can be replaced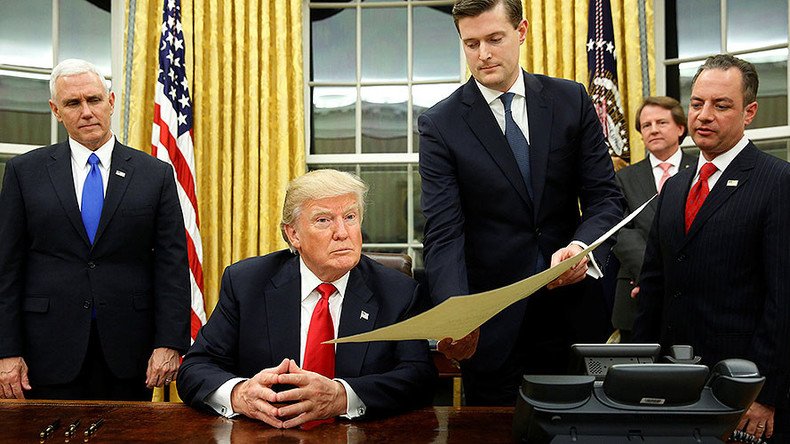 On his first day in the White House, Donald Trump signed an order 'to ease the burden of Obamacare as we transition from repeal and replace,' his press secretary Sean Spicer told reporters.
On Friday night, just after his inauguration, President Donald Trump signed the executive order as the new administration and Congress are working to repeal and replace the Affordable Care Act, Spicer told reporters.
In addition, White House Chief of Staff Reince Priebus sent a memo to all government agencies calling for a freeze on regulations.
It is still not clear what the executive order entails.
Hours after taking the oath of office, President Donald Trump signed an executive order, titled "Minimizing the economic burden of the patient protection and affordable care act pending repeal."
The executive order calls for the "prompt repeal of the Patient Protection and Affordable Care Act."
The executive order does not repeal Obamacare itself, and says that before the repeal happens, "it is imperative for the executive branch to ensure that the law is being efficiently implemented, take all actions consistent with law to minimize the unwarranted economic and regulatory burdens of the Act, and prepare to afford the States more flexibility and control to create a more free and open healthcare market."
Incoming White House Chief of Staff Reince Priebus also sent a memo to all government agencies calling for a "regulatory freeze until further notified," incoming press secretary Sean Spicer told reporters.
Obamacare, also known as the Affordable Care Act (ACA), was signed into law by President Obama on March 23, 2010 and upheld by the US Supreme Court on June 28, 2012.
Under the law, insurance providers were prevented from denying coverage based on pre-existing conditions, and all Americans were mandated to purchase health insurance or pay a penalty.
As of February 2016, the official ACA website says that roughly 20 million Americans were enrolled in Obamacare, including those on the Medicaid expansion, and young adults who were allowed to stay on their parents plan until they turned 26 years old.
Republicans cited problems with Obamacare from vanishing health plans to increased premiums as reasons for repealing and replacing.
Republicans tried to repeal Obamacare over 50 times while Obama was in office. On September 30, 2013, Republicans failed to defund the law through the spending process, causing the government to shut down for 16 days.
Since then, Trump has promised to "immediately repeal and replace" the bill, which he has called "a total disaster."
Last week, in a 51-48 vote, the US Senate pproved a Republican-backed budget measure that would make it easier for Obamacare to be repealed. With a Republican majority, they passed Concurrent Resolution 3, a reconciliation measure that set budget levels from 2018 to 2026
Democrats have warned that repealing Obamacare without a replacement bill would cause millions of Americans could lose their insurance.
While there still is no replacement bill, House Speaker Paul Ryan (R-Wisconsin) said that the Republicans will outline a replacement strategy a week from the inauguration at a congressional retreat in Philadelphia.
"Some of these steps will be taken by Congress; some of these steps will be taken by the incoming Trump administration," Ryan told reporters on Capitol Hill, according to official transcripts. "This will be a thoughtful, step-by-step process. We're not going to swap one 2,700-page monstrosity for another."
You can share this story on social media: