'Show of force': National Guard deploy surface-to-air missile systems at DAPL protest (VIDEO)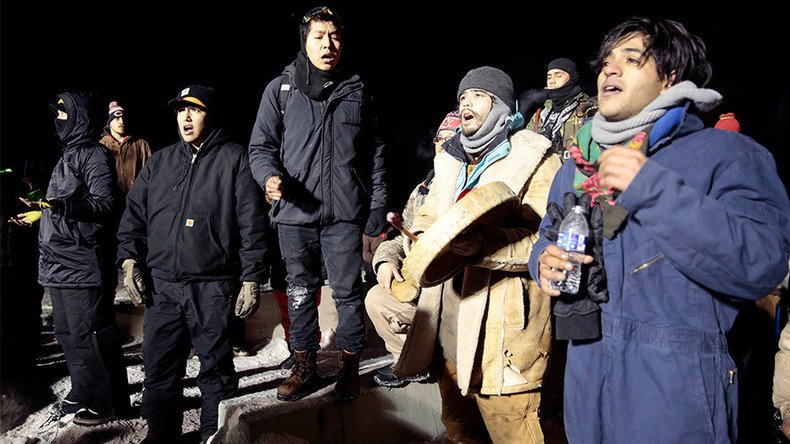 Two surface-to-air missile systems set up near the Dakota Access Pipeline (DAPL) protest at Standing Rock are there to send a clear message, "leave," according to Lorenzo Serna, journalist with the Unicorn Riot media collective.
Serna sat down with RT America's Ashlee Banks to talk about the current state of the protest.
"I can't imagine how they are going to use that," Serna said, referring to the militarization of police at Standing Rock, where the National Guard recently set up two Avenger AN/TWQ-1 Air Defense System vehicles near a critical work site of the DAPL.
"It's just another way of showing force to the people who are still gathered there," he added. "A lot of policing is based around a show of force, showing that they have the equipment, and they're able to use it if they need to. And then they will use it, obviously we've seen them use it."
Journalist Jon Ziegler first spotted the missile systems and posted photos on Facebook, writing, "Anti-drone missile system confirmed on top of a hill guarding the DAPL drill pad. Many water protectors made it further around the bend to the east closer to the drill site and were met with police and reports of mace used."
The Morton County Sheriff's Department responded with their own post on Facebook, confirming that the missile systems are there, but claim that they were not deployed to shoot drones out of the sky.
The police claim that the missile systems are only there for "observation of ungoverned encampments to help protect private property and maintain public safety in southern Morton County, ND."
"These systems have observation capabilities and are used strictly in the observation role to protect private property and public safety," North Dakota Guard spokesman William Prokopyk told the Daily Beast. "There's no authority to arm them."
The Avenger does not only come loaded with night vision and heated seats, but also a rotating turret that can be armed with eight Stinger missiles, which are capable of shooting down airplanes, and a .50-caliber machine gun.
Serna also told RT he witnessed Ziegler getting shot by police in the hand, "his finger was broken, and from my understanding, nearly shot off by a rubber bullet while he was filming," Serna said.
Serna says that police shot Ziegler because he was filming, saying it was "really obvious he was filming. He was hit in the hand where he was holding his phone."
Ziegler described the injury on his Facebook page, saying, "cops were aiming for my phone with rubber bullets, and broke and separated my pinky."
"Imaginary lines are being drawn, sometimes there's barricades, and then when you cross those lines, they're going to use whatever force they decide," Serna told RT.
You can share this story on social media: