82 false killer whales dead and further 13 stranded off Florida coast (PHOTOS)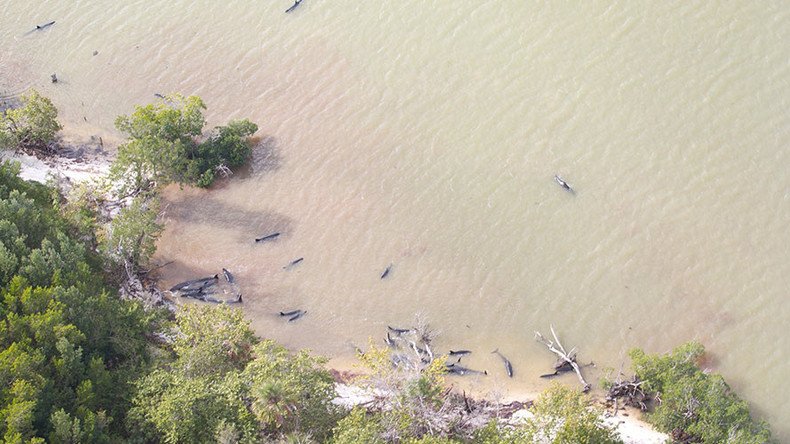 Authorities are fighting sharks, tides and mangroves to save over a dozen false killer whales as a mass stranding has left more than 80 dead off the Florida coast.
False killer whales are a large type of dolphin who are named for their physical similarities to the orca.
The stranding took place along a remote area of Florida's Southwest coast in Everglades National Park. It was first reported by a citizen on Saturday and then confirmed by the US Coast Guard.
Teams from the National Oceanic and Atmospheric Administration (NOAA) and the Florida Fish and Wildlife Conservation Commission have been working at freeing the animals for nearly four days.
They have been attempting to herd the Whales into deeper waters but have been hampered by several factors including the presence of sharks and thick mangrove growth which has ensnared many of the animals.
"The remote location makes it challenging for biologists to get to the scene," the NOAA said in an update on Facebook. "The National Park Service are conducting aerial flyovers to assess the situation (and) make it easier for teams on the scene. To date, 82 animals have died, 13 are unaccounted for."
False killer whale stranding-area around scene in Everglades closed per the National Park Service-asking for no flyovers or boats for safety pic.twitter.com/XMHhTcsFMf

— NOAA Fish Southeast (@NOAAFish_SERO) January 16, 2017
It's unclear what caused the stranding, which officials say is the largest recorded stranding of false killer whales in Florida. Adults, juveniles and calves have died in the mass event.
Rescuers have had to euthanize nearly a dozen whales who had no hope of survival. 72 whales died on Sunday alone.
Wildlife officials are still trying to determine what may have caused the whales to become stranded. The NOAA said that biologists will perform necropsies (non-human autopsies) on the animals and tests will be carried out over the coming months.
False killer whales are known to be gregarious creatures that form strong social bonds. They look similar to Killer Whales with dark coloration and some lighter patches around the chest. Males can grow up to 20 feet in length (6 meters) and weigh 1,500 pounds (700 kg), while females grow up to 15 feet (4.5 meters).
They are usually found in groups of ten to twenty and are also known be involved in mass strandings. The largest stranding on record took place in Argentina in 1946, when 835 whales beached themselves.
You can share this story on social media: