Washington state seeks to abolish 'outdated & costly' death penalty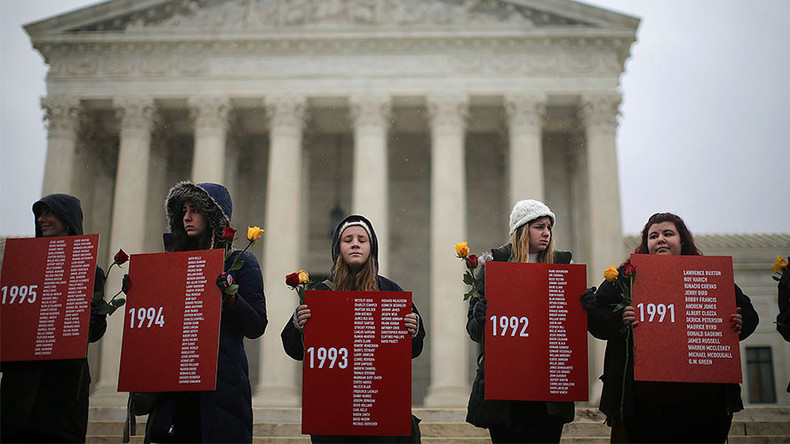 Washington state's governor joined the state attorney general in an unusual bipartisan alliance to back legislation that would abolish the death penalty. They claim that capital punishment costs too much and doesn't deter crime.
The proposed bills would remove capital punishment as a sentencing option for aggravated murder, and mandate instead a sentence of life in prison without possibility of parole.
"Death penalty sentences are unequally applied in the state of Washington, they are frequently overturned and they are always costly," Governor Jay Inslee (D) said during a news conference at the Capitol in Olympia, Washington, on Monday. "I could not in good conscience allow executions to continue under my watch as governor under these conditions."
Inslee placed a moratorium on capital punishment in 2014. In 2015, the Washington Association of Prosecuting Attorneys called for a public vote on whether the state should keep the death penalty.
Inslee was joined at the news conference by former Republican Attorney General Rob McKenna and two members of the GOP-controlled state Senate.
"This issue transcends politics," state Attorney General Bob Ferguson, a Democrat, told reporters, according to the Seattle Times.
Around the country, "legislatures are acting on this important issue with up-and-down votes," added Ferguson, according to AP. "And it's time for Washington, the state legislature here, to take that vote."
The proposed bills are sponsored by Mark Miloscia, a Democrat turned Republican, in the Senate, who cited his Catholic faith for his opposition to executions. The legislation is sponsored in the House by Rep Tina Orwall, a Democrat.
McKenna, who served as attorney general from 2005 to 2013, said death penalty appeals are so lengthy that "this is a system in which justice is delayed and delayed to a point where the system is broken," according to AP.
"It isn't working anymore," McKenna added. "It's time to move on."
Last month, Inslee issued a reprieve for death-row inmate Clark Elmore for the 1995 rape and murder of 14-year-old Kristy Ohnstad. Elmore was the first death-row inmate in the state to exhaust his appeals since the moratorium was put in place.
The law, if passed, would not be retroactive and wouldn't apply to Elmore and seven other inmates.
There have been 78 inmates, all men, put to death in Washington state since 1904. The last execution in the state came in September 2010.
Previous bills have stalled in the legislature. Miloscia's 2015 bill to stop executions didn't get a public hearing in the Republican-controlled Senate Law and Justice Committee, much less a vote.
Capital punishment is currently authorized by the federal government and 31 states, including Washington and Oregon, which also has a moratorium in place.
Death penalty moratoriums are also in effect in Pennsylvania and Colorado.
The death penalty has been overturned or abolished in 19 states and the District of Columbia.
The most recent decision was by Delaware's Supreme Court last year, which declared the state's death penalty law unconstitutional.
You can share this story on social media: