FBI honors Martin Luther King Jr. in a tweet forgetting its own legacy of harassing him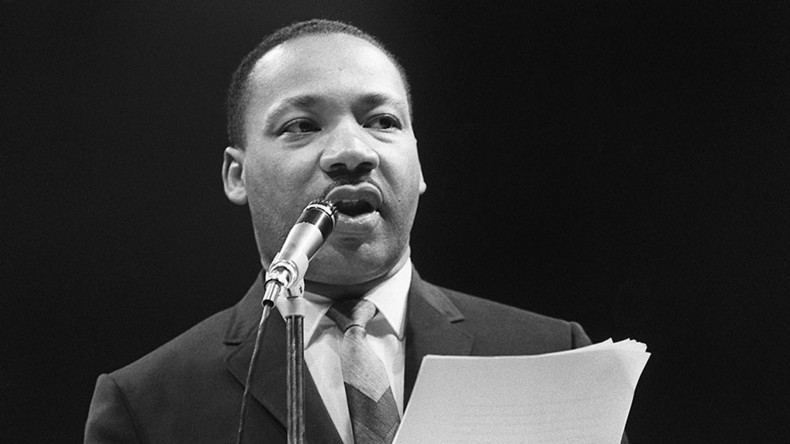 Social media exploded as the FBI remembered the civil rights hero in a flattering #MLK Day tweet. Ironically, It's the same hero the FBI wiretapped and threatened with a sex scandal, while allegations remain that the FBI had a hand in his assassination.
"Today, the FBI honors the Rev. Martin L. King Jr. and his incredible career fighting for civil rights. #MLKDAY," the FBI tweet said. It included a photograph with the caption: "Injustice anywhere is a threat to justice everywhere/ We are caught in a an inescapable network of mutuality, tied in a single garment of destiny. Whatever affects one directly, affects all indirectly."
The Twittersphere lit up with 1,400 shares in just three hours and nearly 1,000 comments.
Another tweet included a copy of the letter where the FBI said King should kill himself.


Twitter users said the only appropriate tweet from the FBI should be, "He was a great man and we are really sorry."
On November 21, 1964, a letter accompanied by a tape recording of King's alleged sexual indiscretions were delivered to King's wife Coretta Scott King and later also to King himself.
Although the letter was anonymously written, King suspected the FBI sent the package.
Coretta Scott King's memoirs will be released on Tuesday; she died in 2006. "My Life, My Love," includes several interviews with Dr. Barbara Reynolds about the systematic harassment both she and her husband endured at the hands of the FBI which culminated in a smear campaign alleging that King had engaged in extramarital affairs.
The letter, circulating for years in civil rights circles, was only made public in November 2014, when Yale Professor Beverly Gage stumbled on its contents while conducting research ‒ on the personal files of former FBI Director J. Edgar Hoover ‒ for a book she was writing.
"By 1963, right after the March on Washington, the Bureau had grown very alarmed about King's growing influence, and they began to bug his hotel rooms while he was on the road, and they began to wiretap his home and his office," Gage told Democracy Now! "They had enormous amounts of information about King, about his personal life, about his political activities, and they had been watching many people in his circle, as well."
The unsigned, typed letter was written in the voice of a disillusioned civil rights activist, but it is widely believed to have been written by one of Hoover's deputies, William Sullivan.
The letter was considered a symbol of a much wider campaign against King and the Civil Rights Movement, people suspected of having ties to the Communist Party, and those on the left in general. That included wiretapping, likely approved under the Kennedy and Johnson administrations, and which continued during the Nixon administration under a program called COINTELPRO.
FBI records show its covert Counterintelligence Program (COINTELPRO) targeted groups and individuals that the FBI deemed subversive including anti-Vietnam War organizers, activists of the Civil Rights Movement or Black Power movement (such as King and the Black Panther Party), feminist organizations, anti-colonial movements (such as a Puerto Rican independence group called the Young Lords), and a variety of organizations that were part of the broader New Left.
Hoover called King the "most notorious liar in the country," in front of a group of female journalists ahead of King's trip to Oslo, Norway, where he received the 1964 Nobel Peace Prize, becoming the youngest recipient of the prize.
You can share this story on social media: