Protests & 'gay dance party' planned to sabotage Trump inauguration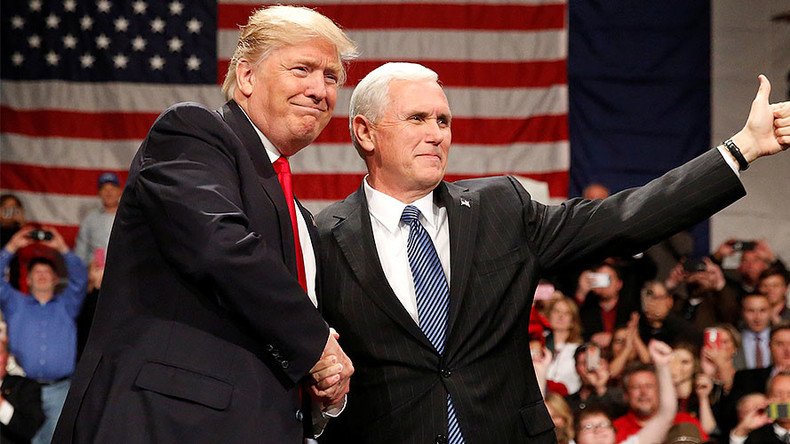 Blockades, demonstrations and an event billed as a 'gay dance parade' are being planned in an attempt to sabotage Donald Trump's inauguration, as left-wing protesters look to up the ante in a day of civil disobedience against the US president-elect.
A group known as #DisruptJ20, the most active in the day of disruption, have called for those opposed to Trump to join their "bold mobilization" in Washington, DC, described as an attempt to "shut down the Inauguration ceremonies and any related celebrations."
"If Trump is to be inaugurated at all, let it happen behind closed doors, showing the true face of the security state Trump will preside over," the group said in its call for action.
Protesters are also planning a "Giant Queer Dance Party" at the home of Vice-President-elect Mike Pence in the days leading up to the inauguration.
"Get ready to WERK it and tell Daddy Pence: homo/transphobia is not tolerated in our country!" the call to action reads.
Trump, known for his brash style, has become a figure of contempt for the US left-wing, vehemently opposed to the businessman-come-politician's election to the White House.
"We would like the headline the next day to be 'Donald Trump inaugurated amid complete chaos', not 'Donald Trump, inaugurated amid applause'," #DisruptJ20 organizer Legba Carrefour told WJLA.
#DisruptJ20 plans to also hold unpermitted marches after failing to secure permits for all its planned events.
Other inauguration events arranged include 'Occupy Inauguration', with the group planning to march on Trump's inauguration and hold a rally of speakers and music across Washington DC.
"We're going to [be] blockading checkpoints into the security zones. We're also going to be blockading roads and other modes of transit into the city," a female member of #DisruptJ20 was heard saying in audio acquired by Fox.
Trump supporters, including 'Bikers for Trump', plan to show their presence in the capitol in solidarity with the president-elect.
"I think it's important to show that he has not been fairly portrayed in the media and there are people that support him," Charles Hale told WJLA.
Hale is one of a group of bikers expected to rev their engines for Trump on the day of inauguration, driving from Baltimore to witness the event.
Large crowds are expected in the city for Trump's inauguration and the Women's March the following day. Airbnb reported 15,000 bookings on its home-rental site, up from 1,300 in 2013.
Some 3,000 extra police officers and 5,000 members of the National Guard are being brought in to provide security at the event.
READ MORE: Mystery order: Troops providing inauguration security to lose commanding general mid-ceremony
You can share this story on social media: