Airport nightmare: Water main break shuts down LAX terminal bathrooms, drinking fountains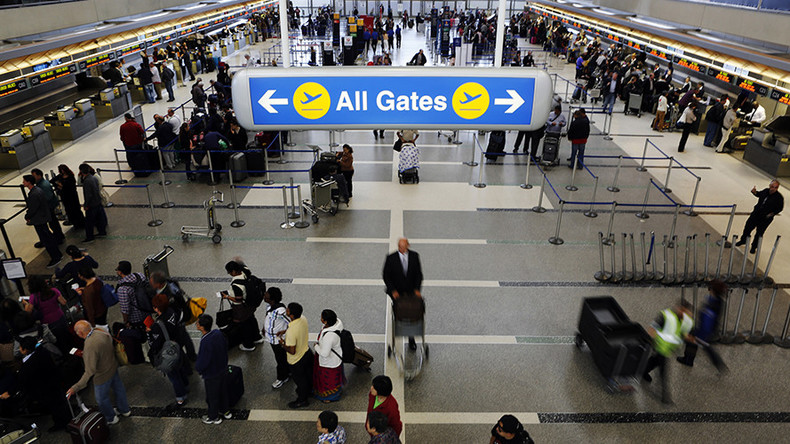 Travelers inside Los Angeles International Airport's Terminal 5 for arrivals are without bathrooms and hot food, following a water main break. Airport personnel are handing out water, as people wait for portable toilets to be delivered. Concession stands have been ordered to serve only pre-packaged food.
Maybe Friday the 13th wasn't the best day to be at LAX. At 10:30am Pacific time, a water main broke near the lower level of Terminal 5, which is reserved for arrivals.
As of 1:10pm Pacific time, construction equipment was still on its way to conduct repair operations, Frederick Badlissi of the airport's press office told RT. There were no delays reported, but the airport tweeted that travelers should expect "slight delays."
The Los Angeles Airport Police Department confirmed that Terminal 6 has also been affected, with some inner lanes closed for water pipe repair. "Expect Delays," the department wrote in a tweet.
Construction crews arrived and began work before 2:00pm.
"LAX Guest Experience Members are providing way-finding assistance and helping passengers find rest rooms in other nearby locations. Airport personnel are also handing out bottled water to passengers in Terminal 5. Concessions in Terminal 5 are still open but are not serving hot food, only prepackaged food and bottled beverages," a press advisory said.
"Passengers are advised to arrive to LAX early to use adjacent terminal restrooms and not drink from the terminals water fountains," the press advisory continued.
Water service was restored around 5:00pm.
"Restrooms have reopened inside Terminal 5 at LAX ending an outage caused by a hairline crack in a water main located under the curb lane in front of the terminal on the Lower/Arrivals Level. The crack was discovered just after 10:30 a.m. today," a late afternoon LAX news release said. "Workers used a clamp to make a temporary repair to the crack and began to fill in the excavated area in front of Terminal 5 while the water lines were flushed for 30 minutes prior to the restrooms reopening."
You can share this story on social media: