Los Angeles to borrow $70mn to cover 'new trend of increased liability payouts'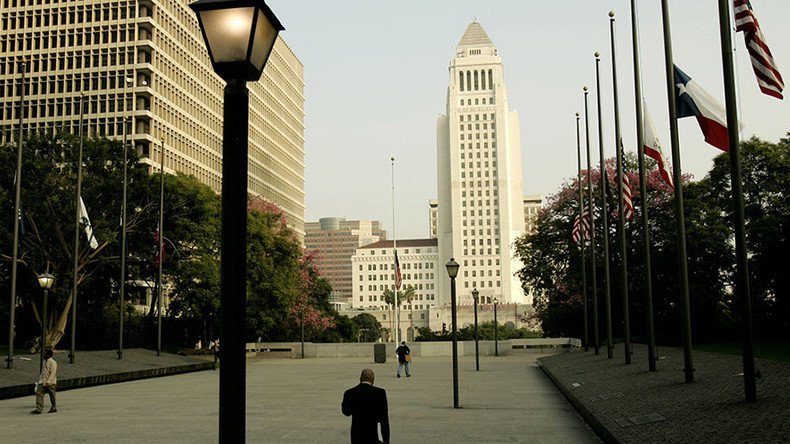 Los Angeles is set to borrow up to $70 million after a year of high-profile lawsuits over police shootings, wrongly convicted persons and disability rights. The money would cover legal fees and payouts, but cost the city about $9 million per year in interest.
A new report by the City Administrative Officer (CAO) of Los Angeles has recommended issuing 10-year Judgment Obligation Bonds to reimburse the city's reserve fund after it was used to pay for unusually high legal payments to victims of police shootings, disability rights groups and those wrongfully convicted.
In a typical year, the city of Los Angeles only budgets around $60 million for its legal liability funds, allocating $67 million this fiscal year. However, the city's settlement and judgment payouts from this year are expected to be over $135 million.
This fiscal year, the city settled a lawsuit with disability groups for $200 million, a lawsuit for the fatal shooting of three unarmed men by the Los Angeles Police Department for $8 million, and a lawsuit for $24 million from two men who were wrongfully arrested with murder charges and spent years behind bars. Those fees will be paid out over a period of years, along with a $1.4 billion settlement that the city agreed to pay over the next 30 years to repair broken sidewalks.
The report says that the gap is a result of "what appears to be a new trend of increased liability payouts."
Assistant City Administrative Officer Ben Ceja said that the bonds should only be considered "a rare step and stop-gap measure only." According to the Los Angeles Daily News, Ceja says that in order to fix the problem in the long-term, "we need to budget appropriately."
The CAO report supports Ceja's warning, asking the city to "strive to increase the funding available for liabilities in the upcoming budget process."
In a 4-1 vote, Councilman Mitchell Englander was the only vote against issuing bonds to pay for legal payouts.
Englander states that if the budget is not fixed, "we're going to be in the same boat next fiscal year... it's every year," according to the Los Angeles Times.
The CAO report details how the deficit will potentially reach $245 million this year, putting the city at risk of "not being able to address unforeseen emergencies."
The report states that the reserve fund is "only precariously above" the minimum amount required under city policy. Maintaining the city's reserve funds was a major reason that the city's bond rating was upgraded recently.
If the city's reserve funds falls below 5 percent of the General Fund budget, it could drastically lower the bond ratings, which would make it more expensive for the city to borrow money in the future.
You can share this story on social media: