'Insane, ridiculous, embarrassing': Abby Martin blasts RT 'bashing' by ODNI report and NYT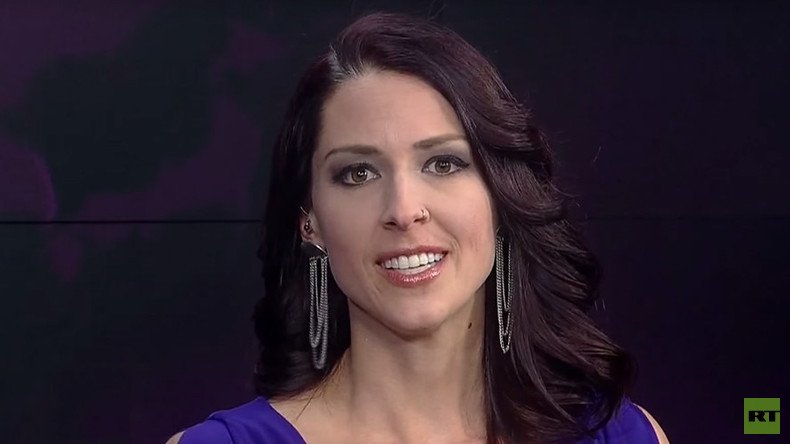 Former RT journalist Abby Martin has blasted the US intelligence agencies' ODNI report along with the New York Times for publishing "egregious lies" about her and RT.
The NYT article, titled: "Russia's RT, The Network Implicated in US Election Meddling," claimed that two RT anchors "quit during live broadcasts" as a result of RT's propaganda, including Martin. The NYT also claimed that Martin said "the network [RT] is a propaganda outlet."
READ MORE: 'US two-pronged propaganda attack: Undermine Trump & Russia'

Speaking to RT on Monday, Martin addressed accusations that her work for RT was part of a Kremlin propaganda effort and explained how the NYT falsely reported on her resignation.
"I've never actually gotten directions from Putin himself," she joked, explaining she was simply "trying to present issues that affect Americans and their communities," on her show, "Breaking the Set," "like reporters in a vibrant democracy should be able to do."
"The New York Times is no stranger to false narratives," Martin said, adding that the media outlet "latched on" to the ODNI report, despite admitting it contained no evidence.
"The so-called paper of record," Martin explained, "hadn't even bothered to reach out" to her before publishing the story.
In reality, Martin voiced her views over Russia's involvement in Crimea during an episode of "Breaking the Set." While her statements garnered global press coverage, Martin remained working for RT for a full year after her statements, continuing to voice her opinions and disagreements with Russia's actions in Ukraine and in relation to the downing of Flight MH-17.
Martin demanded a retraction from the Times for its inaccurate claims, after the article had been up for 19 hours.
After Martin's tweets received many retweets and support, the Times amended its article, writing: "An earlier version of this article misstated when the RT anchor Abby Martin left the network. She quit some months after denouncing on air Russia's war in Ukraine, not during the broadcast."
Martin said the correction "still insinuates I quit RT over Ukraine but I had my show for 1yr after denouncing Putin – disproving the article's point."
The Times later amended the article to read, "Abby Martin quit some time after denouncing Russia's incursion on air."
Martin believes the correction still "misconstrued the facts," as "the truth contradicted their story."
"If this [RT] is a Kremlin mouthpiece, why was I able to have the main opinion show on prime time television on RT for an entire year after that happened?" Martin said.
Delivering harsh criticism of the Times and the Washington Post, whom she described as "the premier producers of 'fake news'," Martin said the "false narratives" they disseminate are "much more dangerous" than the alleged fake news outlets the Post was criticized for writing about in December.
Martin was also misrepresented in the ODNI report into alleged Russian meddling in the US presidential elections. The report focused on RT and its alleged role in influencing the elections, with its authors using outdated information to make its case.
This included referring to Martin's RT show, which ended two years previously.
"This whole report wreaks of desperation and it's lashing out on behalf of the establishment." she said. "A third of it is full of bashing RT. It is absolutely insane, ridiculous and embarrassing to say the least."
"I've always been open with management, I talk to management about what I wanted to say. I went on air and voiced my opinions and that's what I did every day. I voiced my opinions, and I continued to voice my opinions after that."
What the ODNI report really reveals is that "they are the most scared of real reporting," Martin said.
READ MORE: Assange blasts 'embarrassing' ODNI report, says 'no evidence' given

"This is where we're at in society, where the establishment is so threatened by people talking about Wall Street greed, that they are willing to go out on a limb and say that this is all being fomented by the Kremlin."
"We should be coordinating and cooperating with Russia to combat actual threats in the world," Martin said.
The only threat Russia presents is to "capitalism and US hegemony and supremacy around the world," Martin said, adding "the empire needs to maintain its stranglehold over that region of the world."
You can share this story on social media: