'Not buying it': Social media slams 'ludicrous' Fox News interview with Trump's chief of staff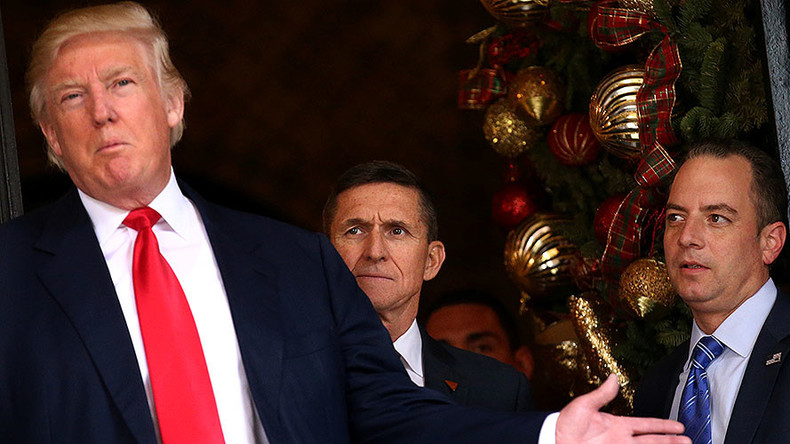 Fox News and host Chris Wallace have been blasted for an interview with incoming White House Chief of Staff Reince Priebus, with viewers describing it as "disappointing" and "ludicrous."
Speaking to Chris Wallace on Fox News Sunday, Trump's chief of staff Priebus said that the president elect "accepts the fact that in this particular case it was entities in Russia." He also criticised the Democratic National Committee (DNC), however, for their shoddy defense against cyber attacks.
The report, which was carried out by the Office of the Director of National Intelligence (ODNI), found that Russian president Vladimir Putin interfered in the election to aid Trump's campaign. The report has been widely mocked online for its lack of proof, misinformation and preoccupation with RT.
READ MORE: All the ways RT 'influenced' American politics ‒ it's not what the ODNI thinks
"The primary actor was the foreign entity... Russia. Here's what we have, we have the DNC as a sitting duck… It started as a spearfishing expedition…just so happened that the DNC had almost no defenses on their system," Priebus said, adding that "actions may be taken" in response to Russia's alleged hacking.
For viewers, however, many seemed to side with Trump's earlier comments in relation to the report, with a number of Facebook users stating that Wallace's approach to the interview and clear desire for Priebus to blame Russia was "disappointing."
"I thought you talked too much and didn't listen," wrote Glenn L. Garland. "Also felt you were working harder to get him to say what you wanted to hear rather than be balanced."
"Very disappointing interview with Reince and Congressman Nunez. Makes you look so small," commented Elise Wagenseil John, while Doug Dahl described the interview as "pretty sad."
"When is Fox News Sunday going to realize that no one outside the DNC is buying this Russia hacks nonsense? The rest of us are focused on getting the country back on course," asked Bruce Reynolds.
Doug Cramer added: "The hacks if there really were any, certainly are not Trumps fault. How about blaming the Obama bunch for the hacks?" Several people also took issue with Chris Wallace's interview style, saying he was determined to get Priebus to blame Russia.
"For Wallace to say Trump should not work with Russia on anything because of this is ludicrous," wrote another.
Following the ODNI report's release, Trump himself raised questions about it, saying the only reason hacking is an issue is because Democrats are "embarrassed" by their defeat. He strongly stressed that the alleged hacking did not affect the election result.
It wasn't just Fox viewers unhappy with the interviews with the Trump campaign on Sunday. Trump also took to Twitter to take aim at NBC for heavy editing of an interview with one of his top aides Kellyanne Conway. "Dishonest media cut out 9 of her 10 minutes," he said.
You can share this story on social media: